The season of gift-giving is approaching, and pretty soon consumers will be looking inside retailers' brick-and-mortar window displays with glistening eyes, thinking of that special someone while looking at your products. In order to ensure that passers-by stop at your store, Independent Retailer has some holiday display tips to get them excited to come inside.
The 2020 U.S. holiday season posted better-than-expected retail sales growth, as huge ecommerce gains added to a surprisingly positive performance for brick-and-mortar retail, and the early outlook for the 2021 season is solid despite major economic uncertainty ahead. eMarketer forecasts that total U.S. holiday retail sales in 2021 will rise three percent to $1.093 trillion, while the season's ecommerce sales will rise 11 percent to $206.88 billion. Decorating for the holidays does not only signal that you sell great gifts and holiday-related merchandise, but it also inspires wonder in shoppers, which can improve brand image and encourage more sales.
Leverage Lighting
The first step in getting shoppers to come through your doors is with bright lighting. If you have window displays, make sure they are well lit, and you can even get a little festive with some string lights. You might even consider these LED Disco Mirror Ball String Lights from Blinkee.com, and they go well even right through to the new year. Good lighting is also important throughout the store, not just in your window displays. Make sure all of your main merchandise displays have spotlights on them so your customers know what is trending and new, and this will be one of the first things they see when they walk into your store.
Use Relevant Color Schemes
The most obvious color schemes for the holidays are red and green, but retailers should also consider colors for the other events taking place during December. You can also just incorporate a winter theme, with light blue, white, and gold accents. While this does not grab the attention of a specific demographic, it is a more generalized way to decorate while including every customer that walks through your door.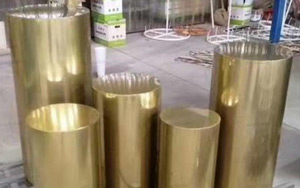 Make Your Displays Pop with Props
On top of matching color combinations, display props can help stage your store for the perfect holiday-themed shopping experience. Bring your mannequins to life with these golden cylinder stands where you can place different accessories that maybe go with the outfit on display, or you can place cute snowmen or fake snow to give your storefront a winter wonderland feel. While Christmas trees can look spectacular for those who celebrate the holiday, they can also take up a lot of space. Get creative and find other small stands that can help your mannequins stand out with complimentary accessories.
Make Signage Fun
Signs are a great way to let your customers know if you have a special holiday sale going on, which merchandise is new and trending, or to simply devise a catchy slogan to tie everything together neatly. Be sure to use bright colors that differentiate from the colors in your product displays so the sign will not get lost, and you can even use string lights around them to really make your signage pop. Colors such as red and yellow are sure to stand out.
No matter what your display plans are for the holidays, your store should be warm and inviting for your customers. Beautiful decorations are just the cherry on top, but friendly service and personalized experiences are always the key to making that sale.