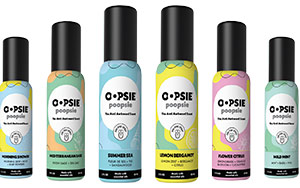 Back with a brand new look and a superior formula, Oopsie Poopsie is a bathroom savior. These fragrance mists can be sprayed before or after using the toilet, and will leave the whole room smelling fresh and clean. With a variety of scents to choose from, it is the perfect solution to leaving no odors behind.
Oopsie Poopsie was rebranded in 2020 by Mar Company Group to give the fragrance mist an all-new look and better formula. Mar Company Group is a manufacturer and distributor of aromatic products and they own multiple different brands, including Aromar, Rocket Scents, Oopsie Poopsie, and Grandeur. Marcelo Moreno, owner of the company, has been in the fragrance business for over 30 years and has a professional perfumist in house to be able to create high quality formulas.
Oopsie Poopsie is available in eight different scents and makes for a great impulse buy display near the checkout counter. When the company rebranded the product, Marcelo and his team wanted to make sure that all of the fragrances matched bathroom vibes. With essential oils infused into every product, each can delivers a clean scent to keep any bathroom smelling fresh.
Mar Company Group is getting ready to debut a commercial in September for their new Oopsie Poopsie line, which will feature humanized animals. This hilarious take on using the restroom will be pushed across all of their social media channels, and if you want to check it out, just search for Oopsie Poopsie on YouTube. The brand's website will also launch during September – www.oopsiepoopsie.net – which will offer both retail and wholesale information.
Oopsie Poopsie
786-477-4174