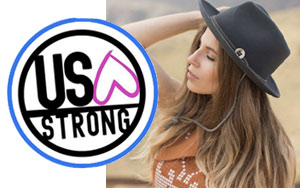 By supporting USA businesses, it not only helps the local economy, but also the bigger picture. Krissy Mashinsky had a goal to bring people together who cared about their local communities and who were directly impacting the sustainability of the planet, which is why she launched usastrong.IO, the first online marketplace to verify, curate, and sell 100 percent USA-made products.
Supporting the Local Economy
Launching in October of 2020, usastrong.IO features about 80,000 different USA retailers on their website. Seventy percent of their shop owners are female owned, and 60 percent of their partners have a charitable arm to their business. They do not charge daily fees, and 90 percent of every sale goes back to the brand owner. The marketplace is really focused on community and building something more than just a convenient website.
"I think the most important thing are the customers that are shopping and recommending our site to others, and our ambassadors out in the field and talking about the products through their social channels," Mashinsky said. "The community is what keeps the flywheel going, what helped start it, and it continues to build from there."
Creating Jobs Across the Country
Mashinsky has big plans to keep building usastrong.IO, and they continue to verify and include stores on their website. While many retailers listed on the marketplace have a brick-and-mortar storefront, about 50 to 60 percent of the brands are left with just a digital footprint now because of either COVID or Amazon taking over. Mashinsky hopes that through the continued growth of the website, businesses will be able to reopen or open their storefront for the first time.
To help usastrong.IO continue to grow, local ambassadors are needed in each state to meet with the retailers who are listed on the website to see how they are doing and make sure all of the products are made in the U.S. Since its inception, the marketplace has created 50 jobs covering 20 states with this ambassador program. As the community continues to grow, the positive effects spread like ripples on a lake, helping indie retailers to strengthen their business and the economy.
Join the Strong Marketplace
Any retailer who makes or sells products that are 100 percent made in the USA can list their business on usastrong.IO. Simply go to usastrong.io/pages/sell-on-usa-strong and fill out the application in order to get verified and start selling. There is a $50 verification fee, which helps to employ local ambassadors to keep the community growing and the marketplace up and running.
"I think there is a lot of interest for consumers, for example in Italy, to see what is made there. The Brits have a lot of pride in what they make, showcasing and understanding what is made by local neighbors," Mashinsky said. "It is not just something in the states, but supporting small businesses in any country is of interest. The U.S. is most in need of showcasing first, especially those in New York who were hit hard during the pandemic."