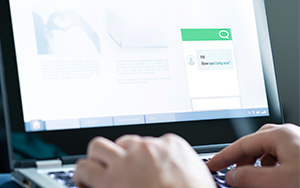 What exactly are consumers looking for? The COVID-19 pandemic has caused a huge shift
in the way they shop and what they want in terms of experiences from retailers. A new survey from Lucidworks, a provider of the Connected Experience Cloud for digital experiences, outlines how shoppers interact with chatbots, product and content recommendations, and where they prefer to do research.
Consumers Want Chatbots That Do More
Shoppers are ready for an experience that is as multifaceted as they are, which includes expanded chatbot capabilities, diverse recommendations that incorporate content, and personalized experiences that understand who they are and what they like. According to the survey, 70 percent of consumers said they use a site's chatbot every visit or often. However, the majority of customers said they would like a chatbot to provide additional capabilities beyond service and support, such as finding specific products and getting additional product information.
"Technology companies are desperate to give consumers answers to their questions, but the key to a good chatbot experience is responding with both questions and answers," Peter Curran, general manager of digital commerce at Lucidworks, said. "If you think about your interactions in a physical retail environment it is never as simple as 'where are the shorts,' and, 'the shorts are over there.' Rather, an associate might respond with a question like 'are you looking for shorts for workouts, swim, or a barbecue?' Dialog is always superior to monologue when you are lost. Great chatbot experiences guide the consumer, they do not only spit out products or answers."
Shoppers Seek Content Recommendations from Brands
Product recommendations are a proven approach to adding value to customers' shopping experiences, as well as increasing average order value for retailers. According to the Lucidworks survey, the overwhelming majority of U.S. shoppers (85%) interact with product recommendations always or often, and two-thirds of U.S. respondents say every visit or often they buy recommended items they did not initially plan on buying. However, products are not the only recommendations customers want to see. Respondents said suggested content including how-to and DIY guides, expert recommendations, and product videos are useful, especially during the research phase of their journey.
Customer Loyalty Hinges on Product Quality, Personalization & Customer Service
Loyalty poses a challenge when consumers have limitless options online. According to the survey, shoppers across the U.K. and U.S. agree that high product quality, personalized recommendations, and excellent customer service are the top three reasons that they are loyal to brands. Retailers must create a connective tissue across all channels and deliver consumer insights to employees in real-time so they can improve their experiences, including site experience, product quality, and customer support to engage shoppers for the long haul.
Consumers Say Retail Branding Affects Their Opinion of Brands
On top of product quality, personalization, and customer service, a Visual Objects survey found that half of respondents (50%) say that their opinion of a company is affected by corporate branding, such as advertisements about a brand's values. Experts say that retail branding is important because it aligns with a brand's goals as well as consumers' shopping behaviors. In a release sent to Independent Retailer, Melissa Packham, chief brand strategist for A Brand is Not a Logo, said, "Creating an atmosphere for shopping that is aligned with your brand is a critical component of shaping your brand experience." She says that the Apple Store, with its signature sleek and minimalist design, is an example of a distinct retail experience that reflects the values of the company.
There are many different ways for businesses to stand out to shoppers. Especially since consumers are back out of the house and shopping in person, now is the time for indie retailers to give them that 'wow' factor and keep them coming back for more.