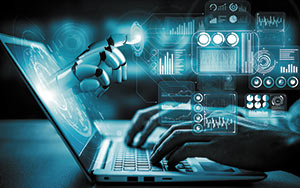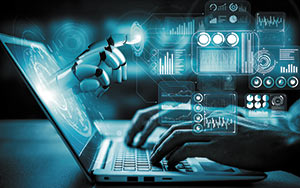 Artificial intelligence (AI) is growing as an industry, and there is opportunity for retailers to benefit from the integration of AI technology. Businesses are always searching for new ways to improve their operations and increase their return on investment (ROI). In addition to their sales and operations, retailers have other priorities to focus on: employee safety and security measures.
Most retail workers face minimal risk when it comes to injuring themselves on the job. However, the National Institute for Occupational Safety and Health prioritizes the prevention of employees facing unsafe situations. Three common reasons for retail workers being absent are:
Injuries and illnesses from overexertion
Injuries from falling
Injuries from motor vehicle accidents
Small businesses should consider using artificial intelligence to power preventive safety measures and prevent retail workers from getting injured in any way. Here are some ways AI can be used to improve environments in the retail industry.
Enhance Property Visibility
Staying aware of what happens at a store is essential for helping employees and customers feel safe and accommodated. Many of today's security cameras make it easier than ever to verify what is happening on a property and avoid false alarms. For example, AI detection features allow clients to receive alerts about vehicles, people or even delivered packages. Those details help small business owners stay on top of what is happening while reducing faulty alarm triggers.
These AI-enhanced cameras also allow viewing parts of a store from off-site. For example, an owner might check on their shop while on vacation and see that parts of it need more attention than usual. They could then contact someone overseeing the retail location and advise them to address the matter. Cameras also act as a theft deterrent, helping companies manage loss prevention. AI cameras are more affordable than many business owners realize. A company called Arlo has monthly business plans starting at about $12 for a store with more than a dozen cameras.
Spot and Address Safety Trends
Another AI retail possibility is to use specialized software that tracks trends and makes predictions. Taking this approach could result in a safer workplace and better-equipped employees. A data dashboard might show that most workplace accidents occurred when people had gone several hours without taking a break. Alternatively, it could indicate that most incidents happened in a particular department or with employees who worked at a store for less than three months. In such cases, business owners can identify worrisome trends and adjust training schedules or company procedures to keep employees safer. Many AI-driven data analysis tools can also suggest strategies for reaching goals and improving decision-making.
Keep Stores Tidy to Prevent Mishaps
Many large retailers — like Stop & Shop and Walmart — use AI cleaning robots to tackle spills and look for clutter that could cause accidents. However, this option is now more accessible to small business owners due to an emerging trend called robots-as-a-service (RaaS). Customers pay flat fees or per-usage rates to rent the machines. The costs typically include all installation and maintenance necessities, so it is easier for retailers to adjust their budgets and accommodate the AI costs.
A Singapore company called LionsBot International offers cleaning robots through a RaaS plan. Users send the machines to different areas of a building with smartphone apps. Elsewhere, the owner of a small janitorial company designed cleaning robots several years ago after believing he could do it much more cost-effectively than what the market offered then. He created "robot kits" to sell for a single charge of $3,000-$4,000 or a monthly subscription. The entrepreneur reported a lack of interest initially, but that could change as a higher number of smaller enterprises invest in AI and robots.
Improving Retail Operations 
In addition to making retail stores safer, the operations of retail businesses benefit from the implementation of AI software and machines.
Managing Inventory. AI makes it possible for retailers to forecast what items need to be purchased before product stock runs out. Managing inventory is a challenging task but a necessary one. It ensures customers have access to the items they are looking for when they enter a store. If stock is unorganized, predicting what products need restocking becomes a hassle. AI inventory management software takes stress off management. Systems can keep track of items by providing estimated times of shipment arrivals and documenting what products are being purchased and leaving the store.
Automated Customer Service. Customer service robots are commonplace on shopping websites. When users visit a site, it is common for chatbots to pop up in messaging tabs, asking if they can do anything to help. In a retail setting, customers crave a personalized experience. Whether it is asking workers for sizes, information about a product or product availability, AI can assist in some form. Improving the interactions between customers and employees is always a priority for business owners. This improves overall brand recognition and productivity.
Using AI in Retail
There has been exponential growth in the AI industry, and competition is fierce. Many companies are fighting to be the first to innovate. The main objective of artificial intelligence is to provide solutions for industry leaders within the public and private sectors. Incorporating retail AI and machine learning robots offers benefits for customers, employees and managers. Many processes that are tedious today will be streamlined tomorrow by using AI.