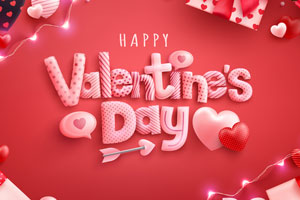 With only 53 percent of consumers celebrating the Valentine's Day holiday and even more retailers allowing shoppers to opt out of holiday marketing materials, it has become more important for businesses to get their products in front of the customers who are looking for them. As retailers are getting ready for this upcoming holiday, Helium 10 offers some great marketing statistics so you can make the most out of your Valentine's Day promotions.
Expected Trends for CPCs and Conversion Rate
Helium 10's data includes searches containing the word Valentine or roses across their platform during the months of January and February in 2021. Searches containing the word Valentine showed a period in late January and early February with a high conversion rate and relatively low cost per click (CPC). While impressions for Valentine searches showed an uptick from January 1st, the prime season for selling Valentine products is between January 27th and February 9th.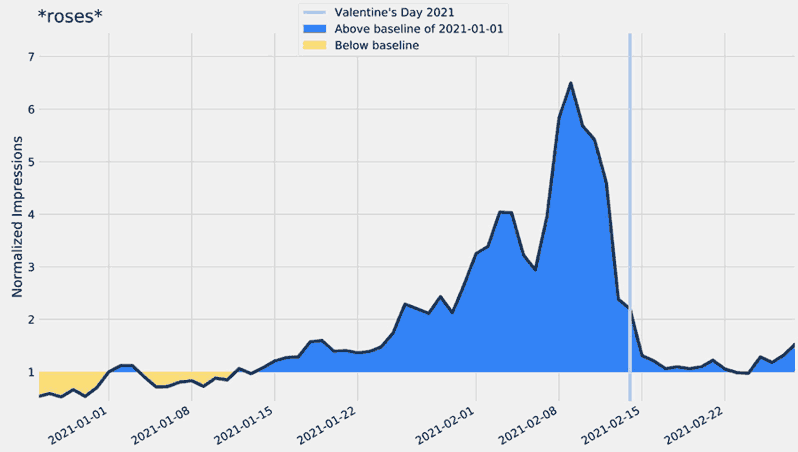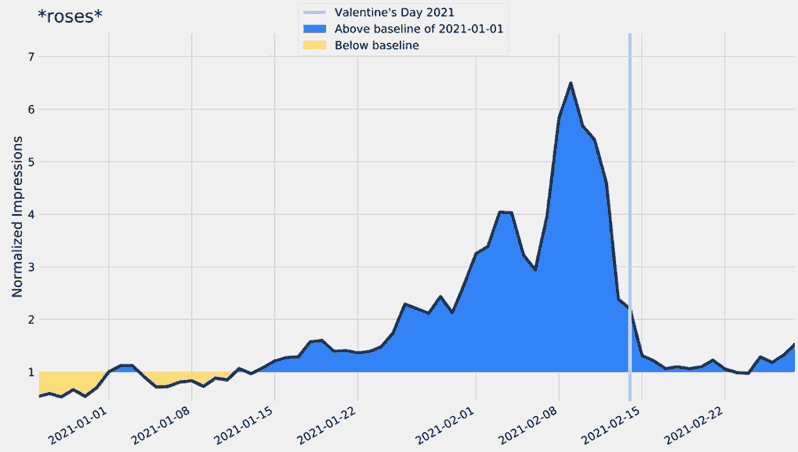 The rise in conversion rate prior to the spike in CPCs is reflected in the advertising cost of sales (ACoS) for Valentine searches dropping below 30 on January 27th and staying below 30 until February 9th. Current CPCs for Valentine searches are slightly higher and their conversion rate is slightly lower than this time in 2020. This is causing the current advertising cost of sales for Valentine searches to be about seven points higher than in 2020. Helium 10 expects to see last year's trend repeat, with the lowest ACoS of the Valentine's season in late January and early February. However, the actual value of ACoS might not go as low as it did last year.
Valentine's Day Seasonality
There was a lift in impressions for Valentine's merchandise starting on January 1st. The peak interest happened on February 9th, with a lift of 62 times over the baseline volume observed on January 1st. After February 9th, searches containing the word Valentine's declined sharply, returning to February 1st level around February 12th, and the baseline level by the 16th.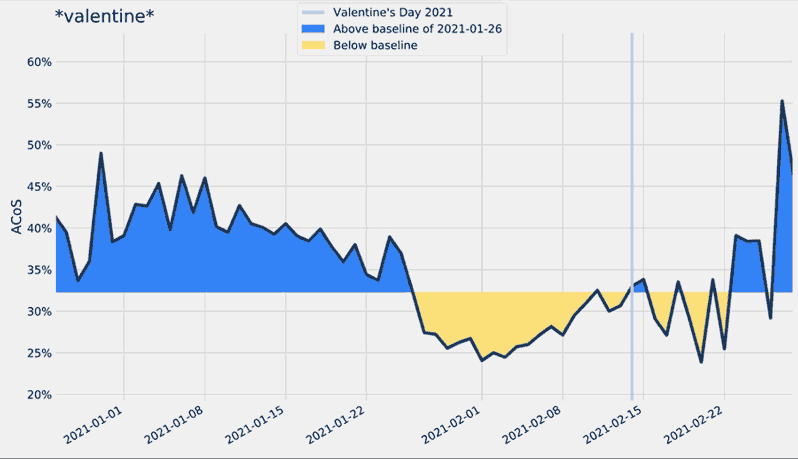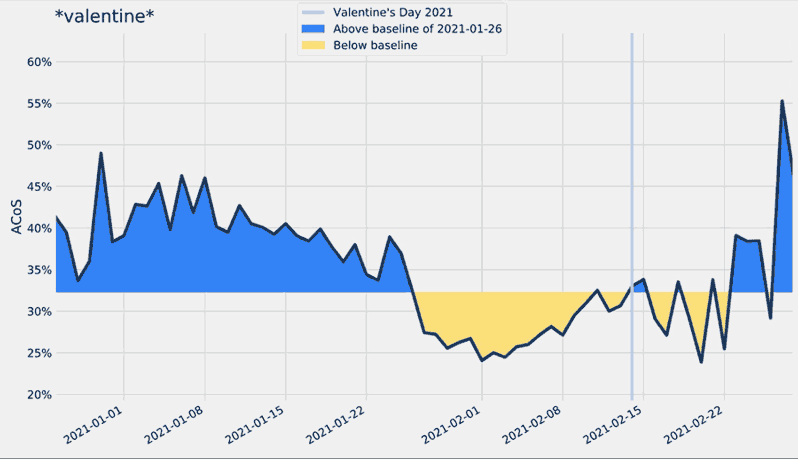 Searches for roses did not show an uptick until January 15th, and they continued to show higher demand than early January through the end of February 2021. The changing of the calendar to February may remind consumers of the holiday, as both Valentines and roses searches showed a lift on February 1st.
By watching your trend line for both cost-per-click and conversion rate, retailers will be able to evaluate where the market is going. Take advantage of rising consumer interest and then protect yourself from inefficient spending when the season ends by making sure that your bids are reflective of the current state of the market.