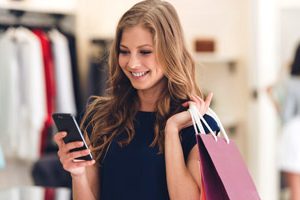 by Andy Greenwood
The law of unintended consequences can affect any complex system. Certainly, for retailers, it seems the explosion in ecommerce, accelerated by the pandemic, has had a knock-on effect on consumers' expectations when it comes to in-store experiences, too.
According to a recent study by Cint, consumers have very specific wish lists when it comes to brick-and-mortar experiences — topped by shorter queues, one-day delivery, and curbside pick-up. Many would also welcome in-store services that help them search for items and even augmented reality. One thing is clear: retailers cannot afford to rest on their laurels.
Be Mindful of Preference for Personal Space
Business leaders must also be mindful of continued anxiety around the pandemic and the associated desire for personal space. This is occurring right alongside heightened expectations of convenience in the digital age. In fact, many consumers in Cint's study reported that they sought shorter lines more than anything else when it came to in-store shopping. To give an idea of the prevalence of this desire, more than half of consumers in India want to see increased social distancing, while more than half of consumers surveyed in the U.K. and the U.S. said that they want a reduction in waiting times and lines.
Expectations of Service Have Increased in the "Metaverse"
It seems that we have emerged into a new world in which businesses must ensure that the experiences they offer marry up to increasingly high expectations of both online and 'in real life' experiences in our so-called "Metaverse." Furthermore, and perhaps conversely to expectations, it is often the youngest generations that reported being most fatigued by online or virtual options — with Gen Z reporting the most fatigue in the survey in this regard. In the U.K., for example, just under a third (32%) of Gen Z reported feeling this way.
Consumer appetite for 'IRL' versus 'URL' experience varies around the globe, as well. For instance, in India — a market in which more than nine in ten consumers (93%) plan to maintain increased online shopping habits — respondents were also found to be looking for a plethora of differentiating factors from their in-store experiences. Drilling down further, in terms of features desired when shopping in-store, 64 percent in India want free delivery, compared to 50 percent in the U.K. and 45 percent in the U.S. In this market, too, almost half of consumers said that they would like services in store to help them to search for items, while 45 percent want one-day shipping. Meanwhile, more than a quarter in the U.S. would welcome curbside pick up. With this type of study, it is helpful to see how desires vary by country, as well as generationally.
Many respondents spoke of the desire to touch objects, try on clothes, and to ask a 'real-life' salesperson for help or information — something that can only be found in-store. They also stressed the importance of 'variety,' 'comparing various brands,' receiving help and advice, browsing, feeling the products, and receiving assistance around their features. Given that activities missed the most in the past year during the COVID-19 pandemic were found to be travel and eating at restaurants, retailers would be wise to ensure that the sensory experience in-store is one that can be enjoyed to the full.
Increased Convenience Expected In-Store As Well As Online
Perhaps unsurprisingly, what consumers are looking for varies by age. Features such as one-day shipping and enhanced store experiences were found to be most sought-after among Gen Z and Millennials across all three markets surveyed (the U.K., the U.S. and India) while having a shorter wait or no queues in-store is most preferred by Boomers. In addition, Gen Z and Millennials, in particular, are looking for features that allow for convenient yet interactive shopping experiences. They would like to see in-store options for one-day shipping as well as enhanced experiences, thanks to technologies such as augmented reality in-store. A full copy of the data surrounding shopper preferences can be found in this white paper: Convenience versus fatigue in a digital world.
Younger Shoppers Favor Boutique & Independent Stores
Cint's data also found that younger shoppers, in particular, are likely to turn to smaller boutique and independent stores when shopping in-store. At least a quarter of Gen Z and Millennial audiences in the U.S. reported buying apparel in-person at boutique or independent stores over the past year. The youngest generation surveyed, Gen Z, was also the most likely to have frequented boutique or independent stores for media and entertainment purchases in the UK, with 21 percent having reported making such in-person purchases over the past year.
Optimization of the In-Store Experience is Critical for Success
Clearly, with three in ten Millennials and 29 percent of Gen Z seeking enhanced in-store experiences, retailers have a job on their hands pleasing everyone. Improved service, both physical and digital, will lead to market differentiation in this increasingly omnichannel world. Optimization of the experience both on and offline will be critical to success in 2022 and beyond.
Andy Greenwood brings more than 10 years experience in the market research and online panel industry to his role as Sales Director with Cint, the global leader in digital insights gathering. He takes a strategic approach to helping clients exceed goals by tapping into the power of Cint's platform, which automates the insights gathering process.