By Ed O'Connor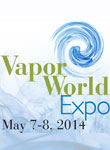 Vapor World Expo is scheduled May 7-8 at the Donald E. Stephens Convention Center in Rosemont, IL. It is a must attend event for innovators, manufacturers, distributors and retailers that have a stake in the electronic cigarette industry. This first of its kind trade show will bring the world of vapor together for two days to meet, do business and learn what to expect as the vapor phenomenon continues to expand across the globe. More than 200 suppliers of vapor products and accessories are expected.
Market growth
Electronic cigarettes and related vapor devices have reached the tipping point. Having passed through the fad stage, the market is trending substantially higher and rapidly becoming a tobacco behemoth. Electronic cigarettes are innovative, unique and capturing enormous consumer appeal. The American Etiquette E-cigarette study of over 1,000 individuals, commissioned by Mystic Electronic Cigarettes, found that 63 percent of respondents approve of them.
Lightning market growth poses complex questions. Product safety, "science-based" regulation, store layout, dedicated shelf-space, wholesale distribution, advertising, capital planning, human resource allocation, world supply and competitive positioning rank as top concerns. All of this is coupled with now evident product fragmentation; specifically, differentiation between the traditional ecigarette and, as Tobacco Merchants Association president Farrell Delman characterizes it, the "$/puff" advantage of personal vaporizers.
Vapor World Expo seeks to set the stage for innovation, product safety, harm reduction, education and market profitability. The show offers a "big tent" approach to the tobacco market, believing an open source forum presenting alternative and conflicting points of view allows the market to competitively sort and develop in such a way as to foster safe products, consumer satisfaction and profitable supply.
The goals of Vapor World Expo are:
Attract electronic medium exhibitors and suppliers to the expo.
Bring together buyers, wholesalers, manufacturers and retailers from convenience and drug stores, supermarket chains and the tobacco outlet store communities to consider, evaluate and make purchasing decisions, supporting their electronic marketing strategies for the upcoming months.
Identify and attract the most knowledgeable market, product and regulatory specialists, bringing perspective and direction to burning marketplace issues through seminars, round tables and attendee collaboration.
Vapor World Expo
Reuter Exposition Services LLC
Tel.: 203-483-5774
Website: vaporworldexpo.com
Ed O'Connor is president and CEO of TMG International, the holding company of Tobacco Business International magazine and Vapor World Expo.