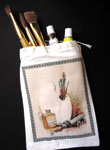 Gift shops, craft stores and jewelry retailers all reach out to State Line Bag Co. for premium muslin bags. Both cost efficient and customizable, the company's new premium line was launched in early August, and has grown steadily in popularity. Kevin Downey, owner and president of State Line Bag, has received feedback from customers lately that reassures him the company is keeping its buyers happy. "They appreciate the high quality of the muslin, which is a great deal thicker than most of the muslin bags on the market today," he reveals. "These new, premium bags have a matching stitch and drawstring, and are literally a blank canvas." The product is ideal for everything from artwork to custom lettering.
"For us, the secret to success has been staying focused on what we do and being true to what we do well," Downey says. "We don't try to be everything to everyone." The company doesn't have to try, however, because the "naturalist" aesthetic, in particular, has gained momentum as the interest in green products has increased. Natural food stores, organic retailers and other eco friendly businesses employ branding strategies that rely on natural imagery, such as using green in company logos, decorating stores in an environmentally conscious manner, and using packaging that has a more natural look than the everyday plastic bag. Thanks to this movement, the demand for a more durable muslin bag has kept State Line Bag Co. quite busy. "Traditionally, bags of this construction were used for storage or soil testing," Downey explains. "But we're getting more requests than ever for them. Neutrality is key." The bags are so versatile that they are as likely to pop up at a wedding reception as they are to appear at an organic market.
State Line's bags are offered in eight sizes, from 2.5 inches by 4 inches up to 12 by 16 inches. "It's all about options with us," Downey stresses. The options extend beyond bag design to selling opportunities, and though the premium bags sell well as a standalone product, they also work well as packaging for retailers looking for just the right keepsake bag to accompany jewelry or gifts. The company will fill order quantities of as few as 50 items, which is a new, lower minimum State Line adopted when it launched the premium bag line. A variety of discounts are available, starting with 500 piece orders and further price breaks by quantity.
Bags can be delivered in a matter of days, with the option of two day shipping. State Line also offers free shipping within the continental U.S. for wholesale orders of $70 or more. "One of the biggest challenges we face is that our bags are of interest to so many different industries," Downey admits. From the craft industry to wedding suppliers, the customer base spans a wide range of markets. "The trick has been remembering that you absolutely must give every order the same amount of attention and consideration."
For more information:
State Line Bag Co.
4745 W. 136th Street
Leawood, KS 66224
Toll Free: 877-377-8071
Tel.: 913-402-6010
Website: www.statelinebag.com