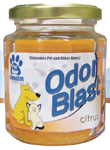 Recognizing that candles are a hot retail trend, SFI Fragrances is moving strongly into the retail channel. After 20 years selling candles to fund-raising groups, the company now has several regional retailers as partners, and is pushing into a national distribution model. According to president, Ron Hart, the Kentucky based candle maker has a firm foothold with independent retailers in one corner of the country. "We're selling to the Hallmark stores in the Southeast region," he says. "We're not selling any majors. We are in several independent gift stores and florists."
The coast to coast strategy is a new initiative. "We really just made the move in the direction of spreading this effort nationally," says Hart. SFI met with professional sales representatives from a national firm at the summer ASD show in Las Vegas, and SFI is working with them to get their product into stores across America. "We now have a rep group, SMR (Supermarket Representatives), that's nationwide, based out of New York," explains Hart. "It's a new thing. They have 11 reps covering the United States, the Caribbean, and Canada."
That means opportunities for retailers. "Now's the time for people to make a connection with us," says Hart, "because we're in a stage of early development going to retail, and we're good at what we do."
But a national distribution plan is useless without great products to distribute, and SFI does not disappoint. The company has three new products designed to attract attention and generate excitement at retail. The "Odor Blaster" line offers candles designed to eliminate offensive scents. SFI has two varieties, a "Pet Odor Eliminator Candle" and an "Odor Blast Smoke and Odor Eliminator Candle," each available in four fragrances. Each item has a point of purchase display unit provided to accommodate the retailer.
SFI is also offering retailers another innovative product, its "Greeting Card Candles." Intended to be sold for about the same price as a greeting card, the product comes with ten different messages, and is packaged in an attractive gift box, ready to give away. The company hopes that a "card" product that has lasting value will prove compelling with shoppers: This message is reinforced with the slogan, "The Greeting That Lasts." The 100 percent soy candles are heavily fragranced and colorfully labeled.
"The Greeting Card Candles are unique," says Hart. "There's nothing out there like them that we know of." To maintain a unique edge for these unusual products, SFI has trademarked both the product names. "The Odor Blaster and Greeting Card Candles are ideal for independent retailers," he says, citing the smaller quantities available. An interesting product made of recycled wax, the "Charming Home Candles" line is available in lot quantities. "The eco-paraffin recycled product is intended for the larger operation who can bring in pallets," says Hart. This item retails for prices that should allow for a quick sell through.
All three products have good profit potential, according to Hart. "We figured we have to enter the market at very competitive prices. For the independent retailers, we offer great pride in giving good service, communication, and displays." He also offers high margins. "Everything will give retailers keystone, that is, 100 percent markup."
For more information:
SFI Finest Fragrance
130 Venture Way
Somerset, KY 42503
Toll Free: 800-449-4483
Tel.: 606-451-2222
Website: www.sfiproducts.com