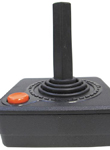 Anyone who's played a video game knows how addicting they can be, which has worked out well for John Drdek and his crew at Innex, Inc., the world's largest wholesaler of video game accessories. "The company was founded by brothers Titi and Joey Ngoy, who loved the games and decided to make some extra money by selling accessories they had on eBay," says Drdek, now director of marketing at Innex. "From those humble beginnings, they now have a 30,000 square foot warehouse with office, and the company has become a top rated video game accessories distributor." Innex has succeeded not only by carrying the classic old-school type of accessories sought by collectors and aficionados, but also by supplying new gear that's been retooled to play the old classic games. "Our top seller is the 'Retro-Duo' controller, which plays both the Nintendo and Super Nintendo games," Drdek says.
According to a recent study by the NPD Group, 72 percent of American households play video games. Americans spend more on games than they do on music albums and downloads, DVD's and Blu-ray discs, which puts Innex in a great position. "We sell to brick and mortar stores, flea markets, retailers across the globe, mom and pops, online retailers, dropshippers, or anyone with a desire to sell the accessories," Drdek notes. The company is well stocked with any kind of accessories a gamer could want, listing more than 800 SKUs among its inventory. "We have everything from controllers, to headsets, to cables and everything in between," he adds. While he was unable to provide specific pricing on specific items due to his large inventory, Drdek did note that retailers enjoy a, "Very, very comfortable return on profit."
There is no minimum order, but Innex will offer a discount for a quantity order. "The more you buy, the more you save," Drdek says. Ever the innovators, Innex just unveiled its "ElectroHub" induction charger at the Consumer Electronics Show in Las Vegas. "You just lay a game battery on the pad, and it charges it just like that," he says. New customers enjoy a 10 percent discount on their first order over $1,000. "We've been able to grow into a worldwide company because we offer amazingly low wholesale prices," Drdek says. "We don't sell wholesale to the public directly, and advertise only the MSRP." Registering as an online buyer takes only minutes.
For more information:
Innex, Inc.
16622 East Johnson Drive
City of Industry, CA 91745
Toll Free: 866-659-7177
Website: www.innexinc.com