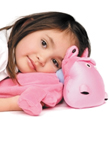 Parents and grandparents are known for sparing no expense when it comes time to buying presents for kids, which makes Zoobie Pets an ideal line to carry in your store. It's a plush toy, comfy pillow and cozy blanket all in one, made of huggable, soft material that no child can resist. "The company was started by two brothers who had seven other siblings, and knew that parents would welcome a fun, innovative and functional item like the Zoobie," says Ryan Treft, VP of sales and marketing at Zoobies.
"Zoobie Pets are the ideal traveling companions for children, as they keep kids entertained when awake and comfortable when asleep. Designed with parents in mind, Zoobie Pets are perfect for any excursion," Treft notes. Currently available in more than 3,000 U.S. stores, Zoobie Pets are the only plush toys that transform into a pillow and blanket. "Aside from quality materials and great design, functionality and value is how we compete," Treft says. With more than 50 different types of Zoobies available, the company is well poised to meet any retailer's needs. "This year's big item is Olivia the Pig," says Treft, "licensed from the Simon & Schuster books and the Nick Jr. TV show." The company has expanded its licensing agreements with a number of other characters, in response to parent requests. "Many of them remarked that the licensed characters would be perfect to snuggle up with during story time, so we've started with classic literary characters," Treft says.
Classic sized Zoobie Pets wholesale for $16 each and typically retail for $32 to $35. The company has just launched a new line called, "Slumber Pets," which is a huge Zoobie that unzips on the side to reveal a sleeping bag. Featuring three characters, a pinto pony, a feline and a golden retriever, they wholesale for $30 and retail for $60 each. "We also provide a big fancy display that retailers can use to fill with Zoobies," Treft says. "We also provide signage, posters, window stickers, and even DVDs for stores to show on an endless loop. Those stores that do best are the ones using our marketing material and have staff trained to demonstrate the merchandise," he adds.
For more information:
Zoobies
1111 West 100 South #2
Provo, UT 84601
Tel.: 801-802-0507
Toll Free: 888-966-2438
Website: www.zoobies.com