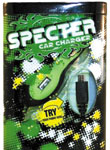 Wireless Accessories Unlimited (WAU), headquartered in Fort Worth, TX, distributes wireless accessories and two-way radio accessories. WAU's new Specter package includes a car charger featuring an additional USB port, flat cord premium earphones, and a 3.5 millimeter auxiliary cable for connecting MP3 players to audio devices. What stands out immediately when encountering a display of WAU's products is the vibrant and creative branding that connects its products. All racks and product packages are in line with the company's belief in supplying retailers with, "cool products and hot profits." The Specter point of purchase display holds 24 Apple car chargers, 24 micro USB car chargers, and 16 auxiliary cables or earphones. Specter products range from $2.03 to $7.65 apiece for a 64 piece order, which comes with a free display. Suggested retail is $12.95 to $24.95, which earns retailers at least a 66 percent profit.
Efficiency and Eye Appeal
"We try to make wireless accessories more exciting so that our products become something that shoppers would like to buy, rather than something that they buy only out of necessity," explains Matt Jackson, president. "Wireless accessories are a sea of boredom, especially when it comes to car chargers. Retailers will buy them and put them on the shelf, where they then proceed to do nothing but collect dust. With this in mind, we create some excitement around a product that's usually run of the mill." It's a challenge, he finds, but WAU has succeeded with the release of its Specter line. The packaging is bright, the car chargers look flashy, with green LED lights, and the brand as a whole is iconic.
Several details set the Specter products apart from other wireless accessory brands, according to Jackson. First and foremost, the quality exceeds original equipment manufacturing (OEM) standards. "Once a customer buys it, I don't want them coming back unless they're buying more or they're telling their friends about it," Jackson shares. "From the plastics to the guts of the product and the cords, quality is our priority. Even our auxiliary cables feature gold plated plugs." The company seems to have mastered both quality products and a solid branding strategy, and has grown by 250 percent since its beginning in 2002.
For more information:
Wireless Accessories Unlimited
6741 Corporation Parkway
Fort Worth, TX 76126
Toll Free: 800-586-5675
Tel.: 817-560-7300
Website: www.waunlimited.com