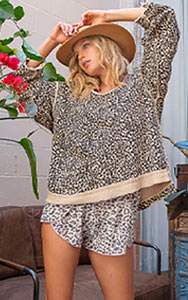 At a time when in-person trade shows have been cancelled for the foreseeable future, it can be difficult for retailers to find new styles and trends to sell to their customers. For business owners who don't know where to turn, POL Clothing is offering Zoom and Facetime meetings to clients so you can see what they have to offer all from the comfort of your own home.
Whimsical, Fun-Loving, & Free Spirited Styles
Based in Los Angeles, POL Clothing is a wholesale supplier for women's clothing. Supplying boutiques all over the world, their styles are for the whimsical, the fun-loving, and the free spirited. The company offers some of the trendiest clothing such as sweaters, jackets, and loungewear. All of their styles are truly unique, offering different designs that can really make your online or brick-and-mortar store pop.
Schedule an Appointment – It's Easy
Without any trade shows to rely on, this is prime time to reach out to POL Clothing and see what types of items would go perfect in your store. All you have to do is give them a call at 310-715-1370 and schedule an appointment for either a Zoom, Facetime, or in-person CDC guideline-followed meeting. Even if you don't end up making a purchase right away, it's a great opportunity to get to know more about POL Clothing and what they have to offer.
The Best Holiday Gifts
The company's fall and winter 2020 collection features high quality, durable, and super fashionable designs that your customers are sure to love. As retailers continue to buy for the holiday season, keep POL Clothing's fall and winter collection in mind. These products are comfy enough to lounge around the house in, but also nice enough to wear out or for a Zoom meeting.
In case you needed any more reasons to shop from POL Clothing, they are offering free shipping on all first orders. This can really help to save a little extra cash, especially since shipping can get costly and many large shipping carriers are increasing their shipping rates. So don't hesitate and reach out now to get your hands on this fabulous free shipping offer and to see some popular fall and winter styles!
POL Clothing
Tel.: 310-715-1370
www.polclothing.com