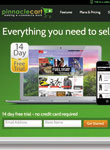 Wholesale Central, the Internet's leading directory of wholesale suppliers, has joined forces with leading eCommerce provider Pinnacle Cart in an effort to make selling wholesale merchandise on the Internet easier than ever before. The partnership launched with the latest release of Pinnacle Cart, version 3.7.11, which includes an automated data feed to Wholesale Central's proprietary product search feature.
In addition to Wholesale Central's product feed integration, the new version of Pinnacle Cart includes new quality templates, an eCommerce widget, and Intuit integration that syncs directly to the user's PC or online QuickBooks account.
Wholesale Central accepts product data feeds from thousands of the web's leading wholesaler suppliers, and makes those products available to buyers from one convenient search box on its home page. "Wholesale Central was the first to offer such product aggregating and sourcing tools for the wholesale industry," remarked Scott Sumner, CEO of Wholesale Central's parent company, Sumner Communications. "Nearly half million wholesale buyers use this free tool each month. The automated Pinnacle Cart integration will now make it effortless for wholesalers to submit their product data, and is expected to dramatically increase the number of products available through our product search tool."
The continually growing number of quality wholesale sources in the Internet's original wholesale directory secures over half a million unique visits to the site each month. Wholesalers who include their products in the Wholesale Power Search have an unparalleled opportunity to increase their exposure to an audience of active buyers. With continuing innovation and extensive product offerings in over 50 major merchandise categories including: Apparel, Fashion Accessories, Jewelry, General Merchandise and Novelties. Wholesale Central commands top organic search rankings in all the major search engines, solidifying its position atop of the wholesale buying and selling industry.
Scott Sumner, CEO of WholesaleCentral.com's parent company, Sumner Communications, shared, "We did an exhaustive survey of eCommerce products, and chose to partner with Pinnacle Cart due to its state-of-the-art features, superior ease of use, and dedication to PCI compliance. We are very pleased to now be a part of their outstanding eCommerce platform."
Wholesale Central is a product of Sumner Communications, Inc., publisher of monthly trade magazines, directories, and websites serving the wholesale merchandise buying and selling industry since 1988. The company's mission is to maintain its position as the number one online and print resource for the general merchandise industry, and to facilitate sales of wholesale products such as apparel, jewelry and novelties, with independent retailers, drop shippers, closeout distributors, eCommerce retailers and online auction dealers.