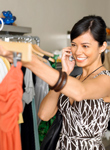 By Mikaela Koronowski
This July, Target® announced it would dissolve its long-term private labels: Mossimo® and Merona®. For loyal Target® shoppers, the announcement was shocking enough to cause heart palpations. But one month after dropping the bombshell, Target® launched four new private-label brands and revealed plans to offer at least eight more private labels, all of which fall under the company's well-performing categories: style, wellness, baby, and kids merchandise.
If you're a new business owner, you might be wondering what private labels are. Unlike manufactured product, retailers who produce private labels hire a manufacturer to create merchandise, but the design and all other details regarding the creation, packaging, etc., are ultimately driven by the retailer, not by the manufacturer.
Private labels are taking online and brick and mortar retail by storm. EKN Research reports an all-time record for 2015 private-label sales, which totaled $118.4 billion— a more than two billion dollar increase from the year before.
Target® isn't the only major retailer ramping up private-label offerings. Amazon currently produces a multi-category private label called AmazonBasics®. According to Quartz®, the retail giant will add more private label offerings to its website from fashion to food. Unlike its predecessor, consumers won't readily recognize the brands as belonging to Amazon.
It's clear more major retailers are venturing further down the path of private labeling, and independent retailers should understand why. After all, small businesses can have some advantages over national brands. "Stocking name brand products does little to entice consumers into your brick and mortar or online store," says Richard Wachsberg, Co-Founder & Chairman of ApolloCorp Health & Beauty Care. "National brands are widely distributed and can be purchased almost anywhere."
Many retailers believe their private labels keep customers loyal and prevent online price comparison. Pamela Danziger, Founder of Unity Marketing, explains while this may have been true in years past, customers today are over-saturated with merchandise and are less likely to spend because they are presented with too many options.
However, private labels do succeed in companies on which consumers can rely. "The customer has already made a decision to shop with the retailer because they trust that store," says Danziger. "So they buy the store's private label brand because their connection with the store brand is more meaningful than their connection with an individual product brand."
Unfortunately, many private label deals require large orders, which can pose challenges for many small retailers hoping to cash-in. However, now that business has entered the digital age, retailers of all sizes are connecting through social platforms and online communities. With increased networking abilities, retailers can more readily pool funds for larger purchases.
In a 2016 survey by EKN, retailers identified a top problem with private-label as not being able to get products to market fast enough. Business owners who have private labels can stay on or ahead of trends by designing their own merchandise. But of course, being first-to-rack is high-priority in our competitive retail landscape.
The low, competitive price points private labels offer are also helping retailers snatch dollars away from major labels. "…Younger shoppers, particularly the millennials who came of age during the Great Recession, are less brand loyal than their parents and grandparents," says Daphne Howland, Contributing Editor for RetailDive. "That's provided fertile ground for retailers with high-quality private label brands."