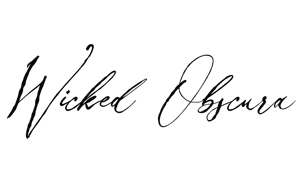 More than just a quirky and whimsical apothecary and oddities shop, Wicked Obscura in Covington, Kentucky believes in making a difference in the world with the choices they make as a brand. All handmade in their hometown, Wicked Obscura makes bath and body products that are safe, non-toxic and highly effective.
This online-only shop makes effective products from plant based oils, the best essential oils and safe synthetics. With ingredients ranging from Icelandic clays to bourbon and ale, they formulate combinations of essential vitamins, minerals, and botanicals to restore skin to its best health and vitality.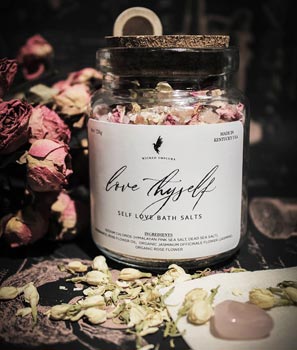 Healing the Body & Soul
After witnessing the murder of a friend, Kayla Spelling found comfort and healing in making candles. "I'm a very creative person and I wanted to work through that traumatic experience. My mom also experienced a lot during that situation, and she's passionate about soap and facial skincare, the natural way. In the summer of 2018, her and I started making different products."
These two women's passions combined and turned into an online business. Wicked Obscura is currently only an online retailer, but Kayla says they definitely have plans to open a physical storefront in the future. This is their first full year in business, so after just getting their feet wet and starting everything, the e-tailer is ready to move on to the next step.
Getting Immersed in the Experience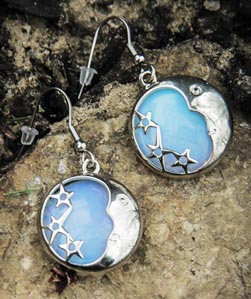 "This is an experience for me, and I want customers to feel that experience as well," Kayla said. "For example, our Black Forest candle is named after a forest in Germany. When you light it, it has a very woodsy scent with some florals and leather as well as the crackle of the woodwick. It's a whole experience for my customers."
Even though Kayla wants to give her customers that unique experience with her products, she makes sure not to add any toxic ingredients into her creations. Through trial and error, she tested out many different soy and coconut waxes, and ended up finding a nice blend that burns well and holds its scents for a long time.
Wicked Obscura continued to add to their product line with facial products, jewelry, hair oils, bath salts, incense, sprays, and many other unique oddities. Even with all the new additions, they continue to create their products with natural ingredients, plant-based food-grade cold-pressed oils, recyclable and reusable packaging, and GMO free. Keeping the bad chemicals out is the company's mission.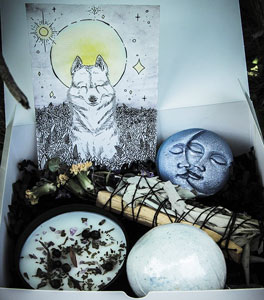 Expanding the Experiences
Just as every successful business should, Wicked Obscura utilizes their slow seasons wisely by prepping as much as they can. "We are coming out with so many products, so when we have downtime periods, we can get things together. We also brainstorm new ideas, maybe not for this year, but we just have fun coming up with great new concepts and researching," Kayla said.
One of the company's plans for this year is to have new products launched every month, all with a theme. "May is amplifying your aura month, so I thought it would be really cool to do a focus on that. We will be featuring a local photographer here who photographs auras and will do readings. There will also be products coming out that month that focus on brightening, such as face toners with crystals in them and brightening face masks," Kayla said.
Wicked Obscura is also collaborating with a brewery in Belgium. They use everything on their property to make beer, so Kayla asked them if they would be interested in collaborating with her on a beer soap. Luckily enough, the brewery agreed, so they shipped their beer to Kayla and she made the soaps.
Many small retailers can benefit by collaborating with other small or independent businesses to create these unique experiences like the ones Kayla is offering for her customers. Not only will they be buying her products, but the experiences that come along with them. And giving customers something new to look forward to every month keeps the excitement going so they always come back for more.