There's nothing like direct customer feedback to see what's working, and Wilcor was happy to get plenty of positive response to its new products at the recent IGES/SSS gift and souvenir show in Sevierville and Pigeon Forge, Tennessee. According to David Corrigan, vice president of sales, the top six most exciting new products from the show included:
1. A telescoping "selfie" pole that clips onto a phone and makes it possible to hold a smartphone far enough away to take a group shot or get a good panoramic selfie. The telescoping pole is compatible with all major smartphones and lightweight and easy to carry.
2. A made-in-the-USA camp chair accessory that slides over the arm of a standard folding camp chair and makes it possible to easily and securely rest a wine glass in the holder. This product was hot because of the increasing importance of wine among younger adults and campers, Corrigan noted, saying response was strong.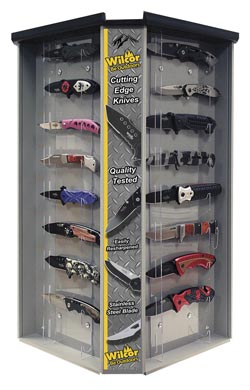 3. A retail knife display unit that can safely and attractively hold up to 36 knives. The unit is constructed from acrylic and offers a four-sided revolving display so customers can easily see your entire knife display.
4. Wilcor's line of "critter hats," which are a play on the traditional Daniel Boone raccoon hat, featuring a wide variety of animals. Perhaps not surprisingly, considering the IGES show is located at the foot of the Smoky Mountains, the most popular new animal was the black bear hat.
5. Sticking with the black bear motif, a new plush black bear wearing a little Daniel Boone-style ha was a hot seller. "That was by far the best-selling plush item we had," Corrigan noted. "It was a unique spin on the plush animal."
6. An adjustable, lightweight aluminum hiking pole that retails for just under $20. According to Corrigan, the pole is comparable to more expensive hiking poles that retail for $60 or $70, but at a much more amenable price point.
How to Buy Products
Wilcor products can be purchased either by phone or online through the company's password-protected website. Wholesale pricing is available online, and depending on the order size, you may qualify for free shipping, based on the following rates:
• Northeast region: minimum order of $450
• South and Midwest region: minimum order of $575
• Texas and Mountain states: minimum order of $750
• Far West: Minimum order of $900