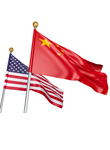 Earlier this week, the Trump administration unveiled plans to put in place a 25% import tariff on roughly $50 billion worth of Chinese products. The document from the United States Trade Representative (USTR) says, "Trade analysts from several U.S. Government agencies identified products that benefit from Chinese industrial policies, including Made in China 2025. The list was refined by removing specific products identified by analysts as likely to cause disruptions to the U.S. economy . . . The proposed list was then compiled by selecting products from the ranked list with lowest consumer impact."
Some of the idea behind the tariff on Chinese imports is to protect against intellectual property theft. The document states the USTR has "determined that the acts, policies, and practices of the Government of China related to technology transfer, intellectual property, and innovation covered in the investigation are unreasonable or discriminatory and burden or restrict U.S. commerce."
This issue of intellectual property theft has long-plagued innovative makers, retailers, and manufacturers in the U.S., as Chinese manufacturers don't recognize registered U.S. trademarks and patents. Particularly, intellectual property theft has harmed startups and small businesses who don't have unlimited resources or practical knowledge in protecting their products from overseas knockoffs. Though this is a goal the retail industry widely supports, it is unclear exactly how these tariffs accomplish that mission.
Overall, the Trump administration says they are trying to minimize the impact Chinese import tariffs have on consumers. However, the National Retail Federation (NRF) is one of the most vocal critics of the proposed tariffs. NRF President and CEO Matthew Shay released a statement saying:
"As we've said all along, tariffs are taxes on consumers and a drag on the nation's economy. While we are pleased that many everyday products such as clothing and shoes are not on the list, we remain concerned that other goods such as consumer electronics and home appliances are targets. And we believe that tariffs on certain machinery will make American-made products more expensive."
It is true that many direct-to-consumer goods are not on the tariff list. However, products like aluminum, pulleys, machine parts, and more are on the list, which could raise costs for the manufacturing and packaging of consumer goods.
Shay continues, "This entire process creates uncertainty and makes it difficult for retail companies that must rely on complicated global supply chains. Tariffs threaten to hurt consumers, jeopardize job creation and increase the cost of doing business here in the United States. Once again, we urge the administration to work with our trading partners to hold China accountable, advance targeted solutions and recognize the unintended consequences of protectionist trade policies."
In general, any increased cost of doing business is bad news for independent retailers who will have to choose between slimming their margins and passing the costs on to consumers. We advise that all retailers read the official notice for themselves, and determine whether or not the proposed tariffs will have an impact on their supply chain.
In accordance with the Trade Act, the USTR and Trump administration invites comments from the public on these proposed actions, including "whether maintaining or imposing additional duties on a particular product would cause disproportionate economic harm to U.S. interests, including small- or medium-size businesses and consumers." If you would like to express any support or concern to the Trump administration regarding these tariff propositions, including how they would impact your small business visit www.regulations.gov. To view the full USTR document and proposed tariffs, click here.