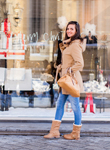 Retailers across the world identify the window display as the first point of contact, which occurs between the store and the customer.
A creative window display is what converts passers by into potential customers. It should be designed in a way that attracts customers to buy rather than simply looking like a piece of art. Once you have attracted people into your store, there's a higher chance they will undertake impulse buying, simply due to your intriguing display.
UK Point of Sale has collected some of the best retail window displays from leading stores and designers, including Gucci and Ferrari, and created an interactive feature showcasing them. The feature portrays the importance of visual merchandising and how it is inspiring potential customers.

Creative and Distinctive Shop Window Displays, via http://www.ukpos.com