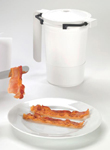 Wow Bacon, the patented bacon cooker from CHALNJ ("challenge"), is the newest way to prepare bacon without a dangerous, greasy mess. It is the only completely enclosed utensil in the world that cooks bacon in the microwave. The product is ideal for sale in a variety of retail shops, from cookware to gourmet, to grocery to gifts. Additionally, the company has exhibited Wow Bacon at numerous trade shows, with big success. "It has gotten huge pull and great reviews," reports Harlan Kerson, consultant to CHALNJ, which is owned by his wife, Catherine Kerson.

A better bacon maker
Wow Bacon was invented by Val Hechler, a mechanical and chemical engineer with more than 100 patents. Made in the USA, the product has a coffee pot type handle that makes it easy and safe to move in and out of the microwave. To use, a consumer simply unclips the top, pulls out the cooking rack, places the bacon on the rack, clips the lid shut and puts it in the microwave. "Because Wow Bacon is completely enclosed, there is no grease splatter and it is safe for people of all ages to use," stresses Kerson. "We are now selling the unit to associations for the visually impaired, so they have a safe way to cook bacon as well. Safety is a great selling point."
Cooking times range from three to five minutes, based on the microwave's power, and the consumer's choice of chewy or crisp bacon. The entire unit can be popped into the dishwasher. "Wow Bacon is made from a plastic resin material that withstands heat, and there is no plastic leakage whatsoever," Kerson adds. "The product is certified by Intertek." Furthermore, using Wow Bacon is good for the environment, another big selling point among today's consumers. You never need to use paper towels when cooking with Wow Bacon. "Based on the amount of bacon consumed in the home, averaging one piece of paper towel for six strips of bacon, we calculated that our product would save enough paper towels to circle the earth 20 times," says Kerson.
Packaging that sells
Wow Bacon is delivered to retailers in a sleeve, so they can put it right on the shelf. "Consumers can see the product without opening the box," Kerson shares. "It is a very nice looking package with high-end graphics, and shows what the product does." For the holiday season, the company is designing new point of sale materials. With large volume orders, CHALNJ provides LCD tablets for retailers to play the company's product video. Freestanding displays are also available.  The wholesale price is $8.49, and Wow Bacon retails for $19.95. The minimum order is 12 units, and the company offers volume discounts. Shipping is free on first time orders. Products ship from CHALNJ's plant in the north of Chicago by UPS, within three to five business days.
Where to buy:
CHALNJ LLC
414 Green Bay Road
Kenilworth, IL 60043
Tel.: 406-225-7822
Visit:
Wow Bacon