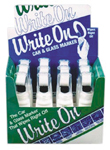 From SisBro Industries comes the Write On Car Marker, a temporary white liquid marker. It's mainly for the purpose of writing on the glass of your car, but it won't harm the body or the finish of the car, it wipes off easily without having to use water or soap. Write On Car Marker has been around since 1977; the brainchild of two friends fresh out of college who saw a need for a product. They had used shoe polish as a de facto car marker like everyone else, but felt it might be useful to develop something that was easy to remove from the car and wouldn't damage the paint.
Among the industries in which the Write On Car Marker is currently in high demand is the car wash industry, particularly full service car washes, where they are used to mark the windshield when a car drives up, thereby giving instructions to the workers inside. Once the wash is done, workers can then just wipe the marker off. The markers are also used in the racing industry. When cars are qualifying, their times are written on the windshield; then they're able to just wipe it off and re-run again. In the case of the "Just Married" label, used to festively mark the cars of newlyweds, the product's appeal crosses over into the formal wear and bridal industries.
The suggested retail price is $5.99, but higher retail prices have been applied in the racing industry in particular. Write On Car Marker is sold by the case, with 96 markers per case and a one case minimum. Buyers also receive a counter display free with every case.
For more information:
SisBro Industries
9807 Harwin Dr. Unit C
Houston, TX 77036
Tel.: 713-977-1577
Website: www.carmarker.net