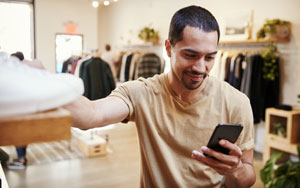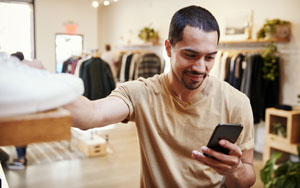 According to Techopedia, showrooming is "when a shopper visits a store to check out a product but then purchases the product online… This occurs because, while many people still prefer seeing and touching the merchandise they buy, many items are available at lower prices through online vendors. As such, local stores essentially become showrooms for online shoppers."
For indie retailers, having a shopper visit your store only to end up purchasing similar products online from another source sounds like a worst-case scenario. But, there are many steps you can take to minimize showrooming in your store.
1. Offer User Support
Offer a warranty or dedicated customer support for shoppers that buy in-person. This is especially effective with electronic and appliance products. The expertise of your associates is also a draw for shoppers who aren't sure exactly what they're looking for, or are trying to decide between a few options.
2. Start a Private Label
One surefire way to combat showrooming is by selling products that shoppers can't buy anywhere else. Plus, starting a private label is a great way to help build your brand identity. This is a strategy that even larger retailers, such as Target, tap into.
3. Host Events
Hosting an event at your store is another way to encourage shoppers to buy directly from your business. It can be a shopping event, or a ticketed event for a craft or painting night, live music, or a contest. You can also host a pop-up event and invite other local businesses into your store.
4. Offer Store Credit
Many shoppers browse products in-store but end up buying online because they are price conscious and searching for the best deal. Offering store credit, financing, or other flexible payment solutions, such as instalment plans, is one way to appeal to price-conscious shoppers without sacrificing your margins.
5. Become a Specialty Shop
If you carve out a niche or specialty, you are likely to become the go-to destination for those specific products. For example, instead of a general pet store, maybe focus on natural or organic pet supplies. If you're a toy store, carve out a section of your business to dedicate to locally made or locally invented toys. Cater to a more specific market and offer shoppers an experience they can't find online.
6. Use a Loyalty Program
A loyalty program can encourage shoppers to purchase items from your store over another. Punch cards are the simplest kind of loyalty program, but points-based rewards where customers earn points for every amount they spend are also popular, especially if shoppers can choose from a few different rewards.
7. Train Your Employees
It's harder to lose a sale to showrooming when you provide great customer service. If you and your employees acknowledge and are friendly toward everyone that walks into your store, that alone will go a long way to encourage shoppers to buy from you.
8. Embrace Customization
According to Forbes, "Your customers want to design or influence the look and feel of their purchases, so give them the opportunity to do just that. Forrester research reveals that 35 percent of shoppers are interested in purchasing custom products, particularly in categories where they can stand out from their peers. This number is only growing today. Giving your customers exactly what they want will cement their loyalty and engagement."
9. Offer Price Matching
If you know customers are leaving your store to purchase on Amazon, consider matching Amazon's prices. Train associates to mention the policy to customers who bring up buying online or who mention seeing different prices elsewhere.
10. Follow Up with Customers
Even if a shopper doesn't purchase from you right away, have strategies or processes in place for following up with them so that your business stays on the top of their mind. Many POS systems include features for email marketing, and even retargeting campaigns if the shopper also visited your website.
11. Promote Shopping Local
Most people know that spending dollars at local businesses is a better investment in the community than spending at chain stores. Have signage in your store thanking customers for supporting local businesses, and reminding them what happens when they patronize a local business.
Showrooming can seem scary for indie retailers. Seeing a customer walk into your store, only to leave and purchase products elsewhere is tough. But, the good news is, most shoppers are actually doing the opposite. 46 percent of all shoppers showroom, but 69 percent of shoppers webroom. In other words, 69 percent of shoppers browse online before visiting your store to purchase. So, rest assured, the odds are in your favor.