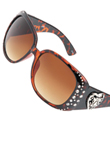 The economy is definitely taking an upturn, and 2011 looks to be a better year for wholesalers and retailers alike. That's the word from the wholesalers Independent Retailer interviewed recently, with all agreeing that the New Year will bring increased sales and business. While one of the biggest surprises of the recent economic upheaval is that consumers have now become more savvy, smart businesspeople will see this challenge as an opportunity to grow and prosper.
One company with high hopes for 2011 is Moda Collection, a wholesaler of both generic and designer sunglasses. Greg Mace, president of operations for Moda, is equally upbeat about his company's prospects, but it's because he and his team have been working hard all year to build a strong reputation and goodwill among their customers. "Our business hasn't been affected too much," Mace says. "We stay ahead of the game because we keep coming out with new styles and trademarks." For example, Moda carries the Xero and Vanquish sport styles, both of which are very popular with men. "We're also having success with the 'Jewel Candy' brand," Mace says, "a women's rhinestone enhanced sunglass with a distinctive 'JC' brand on the temple."
Moda also carries 10 other types of their own trademarked name and designer inspired brands, which compare well to Gucci and other name brands. Asked what he thought others should do to survive until things get better, Mace cites his own company's efforts. "We just stock up on inventory from February through July. We don't want to run out. We also keep expanding our line," he adds, something he thinks other companies would do well to emulate. Mace also notes that Moda is being proactive in attempting to expand its client base. "We're going to do more trade shows in 2011, including the February ASD show in Las Vegas," he says. "We also have a new 100 page catalog out this month that we'll send to all our customers, and include with every order." Mace also remains upbeat but realistic about the coming year. "I think the worst has hit, but there are still companies out there feeling the pain," he notes.
One company not feeling the pain as much is Memphis based, Michelle and Scott's Wholesale Imports, which has been holding its own through all the recent turmoil. "Our business has been doing fine, and we haven't had any real down time," says company owner, Scott McMillin. "It's been kind of steady growth for us." One reason for that sustained growth is that Michelle and Scott's has focused on the small businesses that are its lifeblood. "Our business is based on selling to small businesses, and we have thousands of small customers," McMillin says. "It's part of what helped us survive the recent downturn. Small businesses are constantly starting up, so we get new leads on business all the time."
Indeed, one thing we heard over and over again from the business leaders we interviewed was that constantly seeking new customers is key to survival. "We're always reaching out for new clients," McMillin adds. Michelle and Scott's carries a wide line of wholesale items, which also helps the bottom line. A quick visit to the company's site at WholesaleImport.com shows a variety of offerings, from jewelry to hair accessories to sunglasses to beauty supplies and more. "We specialize in the dozen packs of jewelry, and hair accessories are always strong for us as well," McMillin says.
Being in such a healthy position as the New Year begins, McMillin was asked his opinion on whether he thinks the recession is really over, as some analysts report. "I think the media talks too much about everything. Everything is blown out of proportion," he says. "The recession is a 'causal thing,' which was blown out of proportion as well. If you tell people enough that things are bad, then they get bad. A lot of how fast the economy comes back depends on peoples' confidence in things," he concludes.
Confidence is one thing they have plenty of at SelfDefenseSupply.com, a 20 year-old company that started out as a small retailer, and has now grown into one of the largest defense wholesalers on the web. One of the keys to the company's success, and why it has held its own while others fell to the wayside, is its humble beginnings. "We try to focus on the people like we were when we started out, so folks can get a little of everything without a huge minimum order," says operations manager, Randy Ellington. "We sell to everyone, including mom and pops, brick and mortars, flea markets and small independent retailers." SDS has done well by diversifying, carrying a big line of products so visitors to the site always end up buying something. "We import a lot of our own merchandise, and we're also resellers for most of the big name brand knives," Ellington says. "That includes Kershaw, Spyderco, Gerber, Ka-Bar and more."
Actually, the company is somewhat benefiting from the uncertainty in the economy. "One of our best sellers right now is a bigger ticket item, our four camera system for security, so you can record and view activities online," Ellington says. "Some stores buy it for themselves, and others buy to resell and install the system." Even smaller self defense items are selling strongly. "We do really well with automatic knives and assisted knives, as well as our own pepper spray brand, 'crime halter,'" Ellington notes. One point Ellington does emphasize is the importance of reinvesting in yourself. "We'll keep doing what we've always done; put our profits back into the company," he says. "If you put it back in as much as you can, you grow your money." Putting his words into action, Ellington already has a plan in place for the New Year. "We're just going to keep expanding our line. We'll add in a little extra of what we already carry," he says. "Self Defense Supply carries 2,200 items in our catalog and we stock 4,000 different products online. We'll just keep growing."
To that end, SDS recently updated its website. "It's now more advanced, offering new search techniques and a better search engine," Ellington says. "Customers can now find merchandise more easily, and there are related products, as well as cross-sells and upsells." Asked his take on whether the economy is done with its downturn, Ellington is pragmatic. "It's going to stay as it was for a little while longer. We're not quite out of it," he says. Venturing a guess, he adds, "It might turn around later this year." Yet Ellington is not overly concerned. "We see the recession as just a cyclical dip. I've worked here my whole life, since I was eight, so I've seen it go up and down before," he says.
One wholesale category that has weathered the storm better than most is jewelry, and Guy Andrews, owner of Plum Island Silver Company, is a beneficiary. "We carry more than 20,000 different items, so we're assured of having what the customer wants when they want it," he says. Plum Island sells to a full spectrum of clients, including mom and pops, flea markets and larger independent stores. "Earrings were very popular this year," Andrews says. "We had a good recovery over the past year, and business has been steadily gaining," he adds. Asked if he thought that movement would continue, he was hopeful but guarded. "I think there's going to be growth in 2011, but it's not going to be fantastic," he says. "Yet the market is loosening up a little." Asked what he thought companies could do to position themselves for success, Andrews recalls his own efforts. "Owners should try managing their inventory better, making sure they purchase what they can sell and not overbuy," he says. "Companies need to make every effort to remain profitable and keep growing."
As with everyone else, Andrews is keeping a cautious eye on the economy in general and spending in particular. "The character of the country has changed, and in some measure I believe a permanent restructuring has taken place," he says. "Everyone has learned how to deal with it at this point. I think we're out of it and into the new economy. There's less exuberant buying, and people are being cautious with their money. They're not overextending their credit," he notes. "It's still difficult to get credit, and people are being cautious about overextending themselves. We're now seeing a more cautious consumer and business attitude," Andrews adds. "These two factors kind of mute the new economy from what everyone was accustomed to when times were good. It just makes sense that they're cautious."
Echoing sentiments of caution and cost control is Eddie Schweky, president of Brooklyn, NY's, "It's in the Bag" company. "We import a full line of artificial flowers, gift bags and boxes, and all types of seasonal decorations for various holidays," Schweky says. In business since 2006, the company sells to a wide variety of retailers, from small mom and pops to supermarkets, smaller chains, mass marketers and anyone who wants diversity in their products. "Stores today seem to want to expand their base," Schweky says. "One product line doing very well for us is artificial flowers, including bushes and short bunches of flowers," he says. "We're selling them to mass market people and dollar stores, and supermarkets are picking up on them as well. They're eye catching and colorful, and priced at a good point," he adds.
Still, Schweky has mixed feelings about last year and the New Year. "2010 was our best year so far," he says. "We're putting in the necessary hours, calling on new customers, and we print six different catalogs a year, each a full glossy. Our customers comment that the merchandise is as nice as it appears in the catalog." Still it's not all good news, and he remains cautious about the market in general. Asked about the coming year, he expresses concerns. "To be honest, we're a little bit nervous," Schweky says. "We see a lot of obstacles being put in front of us, and bank loans are few and far between. I feel the situation, as far as the government fiscal policies go, is that it's going to affect us here and overseas. China is a main source of our merchandise, and if things are unstable there, it's going to affect us all."
Schweky also believes wholesalers need to take a more proactive stance when it comes to their product line, in order to succeed. "They really have to watch their inventory as much as possible," he says. "Don't hold onto merchandise. There's always going to be a situation where you might not have enough, and everyone is happy when you sell out. It's all a balancing act." Looking ahead, Its in the Bag is set to grow this year. "We're trying to open up some additional showrooms," Schweky says. "We're now in Chicago and New York, and we're adding one more in Philadelphia. We keep pushing our salesmen out onto the road, as we believe retailers need to see our company reps a little more. It's important that the customer gets to know our people," he concludes. Asked his thoughts on the recession, Schweky was equally forthcoming. "I don't think it's over," he says. "It's a hard call to make, as the economy is so contradictory, and unemployment numbers and other obstacles make it hard to say it's over. Business needs to make decisions and take into account what we call, 'the recession factor.'"
The following were interviewed for this article:
Moda Collection
2145B Bristol Lane
Nixa, MO 65714
Tel.: 813-600-3172
Toll Free: 888-308-6632
Fax: 813-223-4012
Email: modacorporate@gmail.com
Website: www.modasunglass.com
Michelle and Scott's Wholesale Imports
4957 Summer Ave.
Memphis, TN 38122
Tel.: 901-767-0838
Email: sales@wholesaleimport.com
Website: www.wholesaleimport.com
Self Defense Supply
1819 Firman Drive, Suite 101
Richardson, TX 75081
Tel.: 972-644-6800
Toll Free: 800-211-4186
Fax: 972-644-6980
Email: sds@selfdefensesupply.com
Website: www.selfdefensesupply.com
Plum Island Silver Company
P.O. Box 60
West Newbury, MA 01985
Tel.: 978-499-8203
Toll Free: 800-543-7177
Fax: 978-499-8208
Email: sales@plumislandsilver.com
Website: www.plumislandsilver.com
It's In The Bag
236 46th Street
Brooklyn, NY 11220
Tel.: 718-765-9670
Fax: 718-765-9673
Email: info@itsinthebaggllc.com
Website: www.itsinthebagllc.com
?