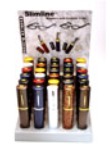 There are a number of quality wholesalers out there who can provide independent retailers with what they need, but who supplies the other wholesalers? That's a question Summit Road Distributing asked itself, and will be answering when it rolls out SummitRoadWholesale.com this month. "The idea is that we'll be a distribution center for other wholesalers," says Summit Road Distributing marketing director, Jennifer Rudolph.
The original Summit Road had been serving a regional market of retailers in the Southeast for nearly 30 years, and then went nationwide in 2008 with the launch of its website, summitroaddistributing.com. "We were serving a more regional market of wholesalers and independent distributors, who'd come by and stock up on product," Rudolph says. "In 2008, we went online from North Carolina. We were at first focusing on the Southeast and then went national with our website," she says.
The company still carries a vast array of product, including convenience store items, general merchandise, candy, medicines and energy shots, as well as a wide selection of automotive accessories, dollar store deals and liquidation opportunities. Now, not only will small retailers feel the advantage of their buying power, but other wholesalers will as well. "In launching our new partner site, it will mimic our current site but offer even better deals for wholesalers," Rudolph says. "The company reaches a wide variety of retail outlets," she says, "including independent retailers, convenience stores, flea markets, gas stations, Mom & Pops, and any types of smaller stores that don't have the purchasing power of the larger chains. We fill that niche," Rudolph adds.
Summit Road Distributing (SRD) has well over 10,000 skus, Rudolph notes, and is adding them to its site as fast as possible. "We have about 2,000 online now, and are adding more every day," Rudolph says. "We still encourage buyers to call us if they're looking for a particular item, as we probably have it or can get it," she adds. SRD gets its merchandise from a variety of sources, including lots of liquidation opportunity and salvage pallet deals. "We have a senior buyer who works fulltime looking for the best deals," Rudolph says. "She travels to China and the trade shows, and is always buying." It's a good thing she does, as the company has a 60,000 square-foot warehouse where it stores its products. "We get lots of new items every week, and the site is updated as the goods come in," Rudolph states.
Family owned and operated, Summit Road's success in the market has been driven by focusing on the customer and turning long lasting relationships with both consumers and suppliers into mutually beneficial partnerships. Specific suggestions from customers on improving the website have been directly applied, resulting in a site that's easy to navigate and user-friendly. Orders can be called or faxed in, and turnaround time is usually within 24 hours of receiving the order. "If an order arrives by 2 p.m. Eastern time, we can usually ship it the same day," Rudolph says. She also notes the company always has lots of liquidation opportunities and salvage pallet deals. "If you don't see what you want on our site, give us a call," Rudolph says. "It might be available on our wholesale site." She also recommends that new customers prequalify as soon as they can, so that when they do want to order, they can just log on and order online. There's no minimum order size, as long as buyers are qualified.For more information and to be prequalified, retailers can contact Summit Road Distributing at 1-877-4SR-DIST (477-3478), or email info@summitroadpartners.com.
Current best sellers on SRD include its new die-cast vehicle model cars, built at 1/24th scale and available in a variety of models and types. Wholesale pricing starts as low as $2.66 for the Volkswagen Beetle, and goes up to $8.50 for the 1970 Chevy Nova model, with retail usually double that. "Most of our products enjoy a 50 to 100 percent markup or more," Rudolph says. The company is also seeing strong interest in its selection of old fashioned and classic candies, including Atomic Fireballs, Bubble Gum Cigarettes, Candy Necklaces, Boston Baked Beans Candy and more. Another popular item among SRD customers is Zippo lighters, available in more than six dozen different designs, including Aerosmith, Budweiser, U.S. Marines, NY Yankees, Pittsburgh Steelers, Dale Earnhardt and more.
Summit Road Distributing is also enjoying some success with its extensive selection of energy boosters and supplements, including the popular 5-Hour Energy Drink. "We wholesale the 5-Hour Energy brand for $19.50 for a pack of 12, and they retail for $2.99 apiece, returning a nice markup," Rudolph says. Also selling well in this cold weather season is the company's assortment of gloves, including types for work or fashion, along with many varieties of knit caps. A number of the products SRD wholesales come complete with ready to use countertop display boxes, so retailers only need to open the package and start selling. Plus, any customers who mention they saw Summit Road Distributing's ad in Independent Retailer will get $10 off their first $100 order.
"We are a family business," Rudolph emphasizes, "focusing on customer service and giving personal attention to all our clients," she says. "We always contact them on followup, and because of that we're assured of their repeat business," she adds. The high numbers of repeat orders and happy customers are always the best reference for any business, and Summit Road has many of both.  Satisfied customers have remarked, "This company is excellent to do business with, and I will definitely do business with them for my next order!" and, "I just wanted you to know that I'm extremely satisfied as a customer, and will gladly share my experience and satisfaction with anyone. Customer service is rare these days, and I must say you get an A+." With Summit Road Distributing's dedication to constant improvement, superior customer service, and personal attention to detail, the company looks forward to servicing the industry well over the next 30 years and beyond.
For more information:
Summit Road Distributing
649 Americal Road
Henderson, NC 27537
Tel.: 919-761-4436
Toll Free: 877-477-3478
Website: www.summitroaddistributing.com