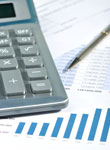 In "The Mobility Edge: CDW's 2012 Small Business Mobility Report," released this week, it was found that small businesses benefit from their employees' use of mobile devices. Conducted by CDW, a provider of technology products and services for business, government and education, this annual report surveyed nearly 800 management professionals across the construction, retail, professional service, food service and manufacturing industries, gathering information on how mobility affects small business owners.
Great Reception in SMB Area
Among those surveyed, 75 percent found mobile device use "critical to their job." Furthermore, 77 percent felt that their company would "lose competitive ground without mobile devices," and reported using smartphones regularly for work. "When there are computer or cash register problems and I am not onsite, I can log on and either fix the problem or more quickly assess the situation," says one anonymous retail respondent.
A number of benefits were pointed out in the survey, with the top two being improved communication between field and office personnel and increased availability to customers. Nearly all (94 percent) respondents agreed that mobile device use improved efficiency overall, leaning on the support of email, calendar and GPS navigation apps as the most common workplace tools. The downfalls uncovered were concerns over security. Since 89 percent of small business employees use their own devices, rather than ones that are company property, CDW concludes its report by advising business owners to protect their networks and data accordingly.