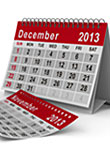 Shop.org expects online holiday sales in November and December to grow from 13 to 15 percent over the 2012 holiday season to as much as $82 billion. "Online and mobile continue to be a leading area of growth for retailers. In this economy, savvy, cost-conscious consumers go to the web to do their research and get the best bang for their buck," said NRF president and CEO Matthew Shay. "In addition to researching what their peers are saying online about products and gifts this holiday season, consumers will use the buy online pick-up in store option, retailers' apps and mobile websites to find something special for their loved ones."
The NRF expects overall sales in the months of November and December to increase 3.9 percent to $602.1 billion over 2012's actual 3.5 percent holiday season sales growth. The forecast is higher than the 10-year average holiday sales growth of 3.3 percent. "Overall, retailers are optimistic for the 2013 holiday season," Shay noted. "Economic variables including positive growth in the U.S. housing market and increased consumer appetite to buy larger-ticket items give retailers reason to be cautiously optimistic for solid holiday season gains." According to NRF, the holiday season can account for 20 to 40 percent of a retailer's annual sales, and accounts for approximately 20 percent of total industry annual sales.
In addition, retailers are expected to hire between 720,000 and 780,000 seasonal workers this holiday season, in line with the actual 720,500 they hired in 2012, which was a 13 percent year-over-year increase from 2011.