By Katy Albrecht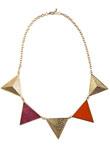 On top of the fashion food chain this year are bright, chunky statement necklaces. If you don't believe it, walk into any store at the mall and take a look around. It is guaranteed you will see at least one section overflowing with these vibrant necklaces. Why is this trend so "in" right now? It's a quick way to turn ordinary outfits into freshly chic, and convenience and comfortably stylish are the keys to fashion trends. That's why there are crazy, bold necklaces in stores, so women can feel relaxed in their attire without looking unadorned.
Still not entirely convinced? All women can pull off this style. For example, a customer could come into your store that has more of a mod look, but secretly loves floral prints. Perhaps they feel that it is a bit too bold for them. A collared floral necklace can be worn to satisfy this love, and add a touch of glam. It's enough to get customers out of their comfort zone without feeling flashy.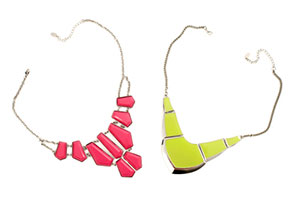 Statement necklaces are the most versatile and affordable fashion accessories of the year. Fashion aside, they are real money savers. There are those days when you feel the need to rummage through your closet and debate whether or not to get rid of those plain t-shirts that aren't getting much use. Simple shirts can be paired with a crystal embellished necklace, to give a complete look without putting a hole in your wallet.
If you don't have these bold necklaces in your store, they are a must-have purchase to increase profits. There are hundreds of styles to choose from, including pearls, rhinestones, crystals, and polished metals, for every woman of any age. Find styles that fit the atmosphere in your store, and place them in the front or by your check out station for impulse purchasing. It's a brilliant way to sell and keep this fashion trend alive. The exhibitors at the OFFPRICE show have statement necklaces at reasonable prices, so it's worth a visit.