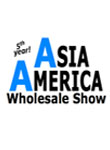 Now in its fifth year, the Asia America Wholesale Show has hit on the perfect formula for a regional trade show. According to Asia America President, Michael Finocchiaro, the show specializes in bringing diverse sellers from around the world together with buyers from South Florida, Central and South America, and the Caribbean, featuring a complete range of high-quality merchandise at good prices. "We are a multiproduct show," he says. "Our buyers are coming from all over, and want a one-stop shop. We have everything from apparel and toys to souvenirs, fashions, gifts and housewares."
Although it's called the Asia America show, sellers come from all over the world, including Europe, Asia, and North America. The main draw, Finocchiaro says, are new products, but there are also closeouts, liquidations, and clearance vendors. This is the right time for a trade show focused on this area, since South America recently surpassed China as the world's fastest growing region, with 12 percent annual GDP growth last year. A frequent traveler to Central and South America, Finocchiaro reports seeing new cars and construction everywhere. Even the relatively small islands of the Caribbean are a $900 million market. "There is a new kind of entrepreneur from these places," Finocchiaro notes. "They are young men and women who want to develop their countries, and are looking for all kinds of products to take home and sell. Things are changing."
Asia America hosts two shows per year at the Miami Beach Convention Center, making access easy from the Americas and Caribbean. The upcoming show runs September 8–10, with a Spring show April 21–23. The typical Asia America show boasts about 280 exhibitors, and is currently in its fifth year of steady growth.
Ordering and pricing
The Asia America Wholesale Show is only open to wholesale buyers. Attendees must prove they are a wholesaler, retailer, or distributor, or that they have traveled from overseas to gain entry. Early signups receive free entry to the show, and tickets are available during show hours for $20 each.
Asia America Wholesale Show
Miami Beach Convention Center
1901 Convention Center Drive, Hall A
Miami Beach, FL
Toll Free: 305-262-3200
Website: www.acsshow.org