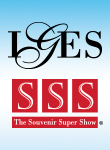 The nation's largest gathering of wholesale souvenir and resort gift buyers and exhibitors in America keeps getting bigger and better. Hosted during the first part of November in the foothills of Tennessee's Great Smoky Mountains National Park, the International Gift Exposition in the Smokies and the Souvenir Super Show, IGES/SSS, celebrated its 15th anniversary in 2014. The show has eliminated its crowded tent pavilion and expanded into two modern convention centers, one in Pigeon Forge and one in Sevierville, Tennessee.
This year, buyers came to the International Gift Exposition in the Smokies/Souvenir Super Show looking for the newest in souvenir and resort gifts for 2015. With over 1,100 exhibit booths, including the industry's top manufacturers and an abundance of new companies and new offerings, IGES offered a large selection of merchandise for every buyer.
According to IGES/SSS Co-Producer Susan Mills, the show staggered its 2014 opening dates between the two modern convention centers to allow for a full six-day buying experience. The show was split between the Sevierville Convention Center and the new LeConte Center in Pigeon Forge.
"We used the two convention centers for the last show, but in 2014 we opened Sevierville one day early and followed with Pigeon Forge the next day," Mills says. "We have some very dedicated and serious buyers who need a six-day spread, and they were very happy and grateful. They spent all six consecutive days, up until the very last minute, writing orders."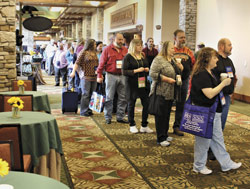 For buyers interested in maximizing their time, Mills highly recommends making appointments before arriving at the show. Vendors who made appointments before the show were busy all day, every day. Mills notes that the staggered opening schedule made it easier for buyers to enjoy the full show experience. Many buyers needing custom products require more time with vendors to create and/or tweak new designs, and all buyers wanted enough time to see the new 2015 merchandise.
Also new to the show in 2014 was the area in Sevierville featuring handcrafted and Made in America merchandise. According to Mills, this new area was "extremely popular. We are already discussing plans to expand this section."
Buyer receptions, cash prize giveaways and vendor-sponsored dinners for some of the gift industry's most popular buying groups were among the show's highlights. While many buyers stayed in local hotels, others spread out into the region's many cabins and enjoyed time on the town. Pigeon Forge, already a busy tourist destination, welcomed a number of new additions including Hard Rock Café, Jimmy Buffet's Margaritaville, a Margaritaville Hotel, and an array of new shops and restaurants.
At this time, the dates of the 2015 IGES November event are to be determined.