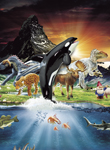 Safari Ltd®, a family-owned manufacturer and worldwide distributor of museum-quality, educational toys, announced that for the second year in a row, Prehistoric Times magazine has awarded Safari Ltd® with the award for Dinosaur of the Year.
Prehistoric Times magazine is a publication that caters to both retail stores and individual dinosaur enthusiasts. Prehistoric Times' staff and retailers chose Safari's Wild Safari® Monolophosaurus as the 2014 Dinosaur of the Year. In 2013, Safari Ltd® was given this award for the Wild Safari Gryposaurus. There was an abundance of reasons for why the staff and retailers chose this figure as the winner according to editorialist for Prehistoric Times, Randy Knol.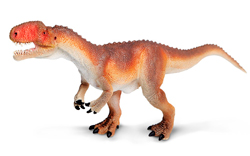 "Not only does the figure fit into the 1/40 scale that collectors like, but it has accurate anatomical features, highlighted by realistic paint so kids can recognize the species while they play," said Knol.
Safari Ltd® is a third-generation, educational toy company whose mission is to teach children the importance of nature and its conservation through the joy of play.