by Katy Albrecht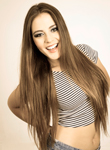 Fashion has a way of repeating itself. The 2012 crop top infatuation is no exception, as it does not seem to be fading anytime soon. If you walk into any local apparel store, you are bound to see the trending crop top paired with a matching midi skirt. Celebrities are always ahead of the game, so this trend is not hard to miss. Why is this look so hot right now? It is waist slimming, flattering on all body types and versatile for every season.
One of the many things retail owners need to know is the product. Your consumers need suggestions and a point in the right direction. For instance, a woman may come into your store and stare at those high-waisted midi skirts, but turn away. Approach them and let them know that midi skirts were designed to elongate and accentuate your curves. This 90's inspired look has transformed immensely from exposing your entire stomach to mellowing it down to exposing a small portion of your upper waist – tasteful and comfortable. Having a plethora of knowledge about your products is what will help to persuade those sales.

Another part of retail is having enough options for all consumers. In this case, women that fall into every purchasing profile. Try not to focus in on one style in particular, as it may not be for everyone. Make sure when you are placing merchandise out that you have different styles to mix and match to your consumers' personal preference. Some may love this trend but are not comfortable with body-con pieces. Have them try pairing a boxy top with a flowy midi skirt for a more modest approach. If that look does not meet their expectations, have them try the midi skirt in other styles like the pencil, pleated, asymmetric, or maybe an A-line with tulle. They will never know what combination works best, until you point them in the right direction.
The best part about crop tops and midi skirts is that you do not have to have them in your store for just spring and summertime. It may be chilly, but the beauty of this trend is that it is incredibly versatile. Display an outfit in the fall or winter with a mannequin in a long sleeve crop top, a high-waisted skirt with booties and you have a complete look appropriate for the cool weather. Also, do not forget to have fabric options according to the weather: lace, chiffon, cotton and leather are all applicable for the colder months.
This ultra-feminine trend is a must-have for your spring 2015 racks. Nearly every retail store, big or small, has crop tops and midi skirt available for purchase. If not, that is something to invest in. Walk through the OFFPRICE Show floor during Fashion Week in Vegas and there is no way you will miss this trend. Why is this look a must-have for your store? You need to appeal to the millennium style and trends. People want to get style tips and inspiration from celebrities – right now, celebrities are all over those crop tops and midi skirts. Dress your mannequins in this look, showcase them in your window displays, and there will be women crawling in, guaranteed.
The Off-Price show will be held February 15-18, 2015 at the Sands Expo Center in Las Vegas.