By Mark Tack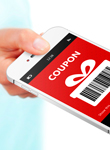 To celebrate its 20th anniversary, Amazon recently held Amazon Prime Day. Although it was promised to be bigger than Black Friday, many consumers were underwhelmed by the deals. The hashtag #PrimeDayFail trended on Twitter. As a result, it sparked a debate whether shoppers in general are experiencing sales fatigue. With events like these dotting the calendar year, is the impact of sales and coupons diminishing?
A Forrester Research report, "Count on Contextual Coupons," found that consumers are not tired of coupons. In fact, two in five consumers (42 percent) say they use coupons all the time. But consumers do want their coupons to be more convenient. Today, that means accessing coupons on the go from the device they use most — their smartphone.
Based on the findings from this report, here are three ways retailers can increase the effectiveness of their coupons:
Digital coupons are no longer enough. Go mobile.
Forrester found that nearly one in five consumers (18 percent) say they would use coupons even more if they could be stored on their phone. It is a simple consumer request, and retailers would be wise to respond.
Given that consumers have moved credit cards to their phones using services like Apple Pay, it is no surprise they want every aspect of their purchases — including coupons — to go mobile. For retailers that were just beginning to feel comfortable with digital coupons, this can seem like unwelcome news. The shift from paper to digital coupons was no walk in the park, and now consumers are asking them to cultivate expertise on yet another channel. Fortunately, there are easy solutions to make that transition seamless.
Mobilize coupons with mobile wallet.
Forrester cites mobile wallet apps like Apple's Passbook for iPhones and Google Wallet for Android phones as one way retailers can mobilize their coupons. Mobile wallets are top of mind for consumers thanks to the booming popularity of Apple Pay. Now that consumers are on board, retailers need to pounce on mobile wallets' proven ability to drive coupon redemption and store visits.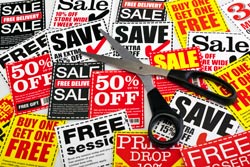 Retailers are demonstrating that mobile wallets can be so much more than a place for payments. It is recommended that retailers take a multichannel approach to mobile wallet marketing (i.e. integrating "Add to mobile wallet" coupon campaigns with email, social, display ads, etc.). Greater distribution gives your customers more opportunities to add coupons to mobile wallet.
It is found that customers almost never delete coupons they have saved to Passbook or Google Wallet. This gives retailers an advantage they have never had with print or digital coupons — the ability to make their coupons dynamic. Retailers can push content updates to mobile wallet, such as a reminder that a coupon will expire. This keeps your brand top of mind and makes consumers more likely to redeem the coupon.
Factor coupon preferences by demographic.
One of the more fascinating findings from Forrester's report was that consumers value coupons in different ways. For instance, Forrester found that baby boomers use coupons for food and beverage purchases while Gen Y consumers use them for travel and entertainment.
Savvy retailers are already taking a targeted approach to coupons through tools such as audience segmentation. Regardless of coupon expertise, however, all retailers should take into account these findings. That context can be the difference-maker when it comes to your customers choosing whether to use a coupon.
At a time when so many retailers are vying for consumer attention, deals and discounts are still a proven way to rise above the noise. Even with the consumer complaints, merchants participating in Prime Day saw an 80 percent increase in U.S. sales from a year earlier. But the ways consumers want to use coupons is changing, and retailers need to keep up. Those that prioritize mobile will stay ahead of the pack.