by IvyLee Rosario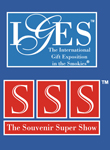 The International Gift Exposition in the Smokies and the Souvenir Super Show, IGES/SSS, will soon be upon us as their Sevierville show takes place on November 3-6 and their Pigeon Forge show will be on November 4-8. Every year in Tennessee, exhibitors from all over attend IGES, the largest wholesale souvenir, resort and gift expo in the United States. Celebrating 16 years in the business, Independent Retailer is taking a look at what kinds of companies exhibit and what keeps them coming back each year.
From custom souvenirs to resort merchandise, IGES/SSS, is focused on providing the best products in the travel industry. The selection of gift choices expands every year and includes a wide range of unique specialty items created for hospital gift shops, museum stores, zoos and aquariums, national and state parks, amusement parks, water parks, campgrounds, coastal and ski resorts. "I exhibit at the IGES show because it is targeted specifically at the travel retail and souvenir market; it has the largest number and variety of souvenir vendors in the USA and therefore attracts quality buyers from across the country," said Ian Storrs, President of A.T. Storrs Ltd. (www.atstorrs.com). "The timing of the show appeals to most buyers, as the main selling season has finished. The buyers have had a chance to review their sales, and come prepared to buy for the next season." The show is expecting around 1200 exhibitor booths and over 10,000 guests.
In addition to partaking in the largest collection of travel and souvenir merchandise, many exhibitors see their time at IGES/SSS as the perfect opportunity to touch base with customers that they normally would not be able to see on a regular basis. "It is a good way to see all of our customers in one place that we don't see at other shows," said John Mauck, Sales Manager at DM Merchandising Inc. (www.247dm.com). "It is a unique show where we can reach a different genre and a distinct group of customers. So not only do we get to bond with existing clients, but we also receive new ones."
Wholesalers also use IGES as a learning process, honing in on bettering themselves as a company and receiving feedback from buyers. "It is an opportunity to listen to our customers about what products are doing well and what new product lines we should add to our collection," said Mahesh Chabria, Vice President and Treasurer of Ramson's Imports Inc. (www.ramsonsimports.com). Among the dozens of reasons why IGES/SSS is a must-attend show, many exhibitors credit the atmosphere itself for why they keep choosing to participate. "The IGES staff is friendlier than people at other shows we have attended," said Dave Kim, President of DWK Corporation (www.dwkcorp.com). "The personnel is better to deal with and really try their best to make their guests have the best experience possible at this show."
IGES/SSS has provided excellent results for wholesalers that exhibit at the show, making for happy, long term customers. Paul Parker, COO of Magnet America International (www.magnetamerica.com), says that they keep attending the show because they have found a great group of buyers and make successful sales. "We see that retailers that visit the show are serious about looking for new and unique products to sell in their stores. This show gives the opportunity to market your merchandise in a nice way that makes a good presentation to potential buyers."
With the vast array of exhibitors premiering new products at the IGES/SSS show, there will be no shortage of sales to be made and relationships to be formed. Staff members are on standby to make sure attendees have the best experience, whether they are buying or selling. "At the show site, IGES' friendly staff members are happy to answer your questions," said Susan Mills, Partner of IGES/SSS, "and help in any way possible." Visit www.iges.us for more information or call 800-430-7608 to speak to a staff member about registration.