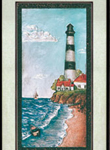 Innovative three dimensional technology has brought lifelike images and experiences out of theaters and into living rooms across the nation. 3D ART has been merchandising its patent pending 3D Art products since 2009. Doubling in size each year since its inception, the factory direct wholesaler now offers a full line of 3D Decorator and Christian Art, with new designs continually available. "We are currently working on licensed 3D Sports Art for the NFL, MLB and NBA, scheduled to be released in 2012," says Jeremy Lewis, national sales manager. "Our new product designs are inspired by customer feedback." Among the newest designs requested by 3D ART's customer base is an American Wildlife series, which includes 3D scenes incorporating wolves, bears, deer, owls, eagles and other animals of the forest.
Framed 3D Art for Collecting and Showcasing
The 3D Art products are like statues on the wall and can be viewed from all sides, giving it a lifelike quality. The image is made through poured polyresin to form the mold, with each mold hand painted to give it a unique look. "The framing is exceptional, with two to four mats in a shadow box type frame, giving the product depth," notes Lewis. "The quality of the framing job is as if the artwork was custom framed." As a factory distributor, 3D ART offers product at a good value. For example, The 3D Art "Last Supper" is 36 by 48 inches and wholesales for $37. It is framed with four mats, in a three and a half inch wide shadow box frame, ready to hang. "Some of our dealers sell the "Last Supper" for over $300," says Lewis. The smaller Decorator Art wholesales for $10.50, allowing retailers to make high profits and still be very competitive.
3D Art is a wholesale distribution company serving retail stores of all sizes throughout the U.S.  "We have no minimum order, but we only sell by the case, and it's best to order a pallet load because we only ship via freight," notes Lewis. There is an opening order special, allowing new customers to receive additional discounts and volume discounts. In addition, 3D ART supplies full container loads direct from its factory in Asia.
For more information:
Western Sales and Marketing, d.b.a. 3D ART
13539 1/2 Alondra Blvd.
Santa Fe Springs, CA 90670
Tel.: 562-483-8700
Website: www.3DFramedArt.com