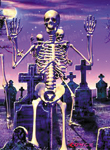 There are thousands of art collectors worldwide, filling their galleries, collections and walls with photography, oil paintings, watercolors and more. Art collecting can be a very lucrative hobby, as there are many variables that contribute to the value of a piece, including its provenance, condition, and the sales history and experience of the artist. Some artwork, however, is for pure enjoyment, such as the popular autostereograms of the early 90s. These two dimensional patterns revealing a 3D image were sold as posters and in books. However, today's pop culture's preference is for lenticular art, artwork that presents images with the illusion of depth, giving them a three dimensional characteristic. With a mission and passion to produce the highest quality 3D artwork, Artgame delivers what today's 3D fanatics are looking for. "We are driven by quality, and the magic and amazement that a perfect 3D scene can create," explains Shane McClure, project manager.
Piecing Together Artwork with Artgame's 3D Lenticular Puzzles
Artgame has been in the art licensing business for over 20 years, but for the last five years has focused on 3D products. "Our original product was 3D bookmarks, which have been a perfect way to sell a little piece of magic at a very low cost," McClure notes. These bookmarks have become collectibles now, as the manufacturer releases new designs. Currently on sale in the U.S. are bookmarks, keyrings, posters, puzzles, mazes and iPhone covers. "Stores continue to tell us that the bookmarks are the fastest selling item," adds McClure. "We look forward to adding a new favorite to the market, our new 3D lenticular puzzles."
Each puzzle contains 60 pieces, and poses a challenge with moving 3D scenes. They are sold packaged flat and premade, so the customer gets the full impact of the finished artwork. Behind each puzzle is a flat-pack box that can be cleverly folded to store the puzzle. "This product was designed to change the way puzzles are sold, by removing the large boxes that take up so much room on retailers' shelves," explains McClure. The 60 piece puzzle also offers a great deal to retailers, wholesaling for $4.50 with a 100 percent retail markup. "All of our products are targeted at the impulse buy price range, where they are sold in large quantities," he adds. "The products start at $2.50 wholesale for bookmarks and go up to $12 wholesale for iPhone covers; all with an intended 100 percent markup for retail."
There is a minimum order of $100, with an additional shipping cost of $8, but any orders over $200 receive free shipping nationwide and can include items from any of the product lines. Retailers looking to only carry the 60 piece puzzles, however, can utilize a rotating acrylic POP stand that displays 12 designs at once. These stands come with a 3D header card to grab the attention of customers. For new retailer customers, the stand is offered for free with the initial order.
For more information:
Artgame Ltd.
7370 Eastgate Rd., Ste. 150
Henderson, NV 89011
Tel.: 702-558-3245
Website: www.artgame.com