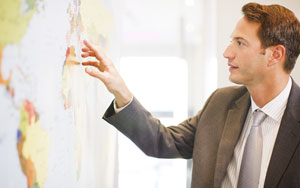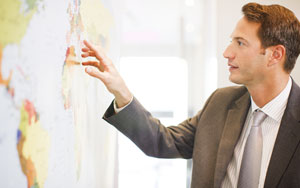 by Juliana Pereira
The COVID-19 pandemic has changed the way whole business sectors operate. Ecommerce is no exception as the virus forced brick-and-mortar retailers to shut down for months and continues to create an uncertain future for in-person shopping, even in light of an imminent vaccine.
On the other hand, ecommerce continues to accelerate as the pandemic continues. Shoppers have made the switch to online as their preferred shopping channel and will likely continue to use it out of habit and convenience in the future. While it is impossible to know what the future will hold for brick-and-mortar stores, the projections are clear for ecommerce: it is set to continue soaring. Five trends are emerging that specifically affect cross-border e-retailers as new demands and quickly-shifting world events position ecommerce for greater growth.
Customer Buying Behaviors & Expectations Will Continue to Change
Many factors contribute to how and why consumer preferences will evolve in ways that positively impact cross-border retail. More people will shop cross-border as they seek out products they cannot get in their domestic markets. In the foreseeable future and even in the longer-term, shoppers will continue looking to ecommerce to meet their demands, and they will no longer be limited to their regional market offerings.
The baby boomer generation will grow in its share of ecommerce activity. Depending on the state of vaccinations worldwide, there is the potential that they will continue to curb their international travel and will instead seek products cross-border that they may have purchased while on vacation in other countries in the past. These folks are growing in their comfort level with online shopping and now that they have built the habit and seen how much they enjoy the convenience, they will likely continue to shop through this channel in the coming years.
Disruptions in supply chains have caused shipping delays in many sectors. Consumers are adjusting to these bottlenecks since they have been taking place at the beginning of the pandemic. Customers will likely place orders earlier going forward, particularly around holidays in 2021, to ensure timely delivery in the event world crises flare up again, further disrupting supply chains. It is also possible that consumers will be willing to pay more for faster shipping or adjust their expectations of delivery windows for free shipping.
Brands should be ready for these changes by offering multiple shipping options that balance shipping cost and delivery speed. Brands selling to international shoppers can remove the step for cross-docking to eliminate friction and reduce delays in delivery by leveraging a cross-border partner in the market.
Budgeting Will Take Center Stage for Online Retailers
With cross-border ecommerce heating up, competition will increase, and breaking through the noise will become more difficult. Online retailers will look more closely at their budgets to figure out the best areas to invest their dollars in paid media, particularly online. To drive shoppers to brand websites, e-tailers will need to consider putting a budget behind digital marketing across different markets. In other words, cross-border ecommerce brands will need to develop a general budget for their overall marketing efforts while also planning a thoughtful approach to dividing that budget among all of their global markets (including domestic) to drive international traffic to their localized global experiences, as well as to domestic ones.
In addition to allocating budgets for international markets, the way those budgets are applied within each market will vary. Cost for different channels vary as well. These factors are important to consider because brands will not need to split budgets for each market evenly. Paid ads and paid search terms, for example, are cheaper in many non-U.S. countries, so brands will need to consider adjusting their budgets by market to achieve the results they want with their projected acquisition costs.
Localized Customer Experiences Will Heat Up
Both new and old brands will push digital frontiers to gain a competitive edge as ecommerce continues to grow. The focus will land on improving onsite conversion of customers across all international markets. Here is where technology will become ever more critical — brands will focus more on improving the user experience on their websites and tweaking the customer journey and checkout flow to increase the number of transactions and, ultimately, sales.
Offering multi-currency pricing, multiple local payment options, accurately calculating duties and taxes, and providing multiple shipping options to customers are all important areas to localize as they directly impact the customer experience. Each of these factors, along with many others, will affect conversion rates on an ecommerce site, and getting all these touchpoints properly localized can be a daunting task to undertake alone. Luckily, technologies exist that can simplify the process and help online brands get up and running in 200+ countries as fast as 1-2 weeks.
Mobile-First Will Follow
Naturally, a superior mobile experience will need to accompany a digital-first strategy for any online brand. More internet users are coming online every year through mobile rather than desktop, and this has been an ongoing trend. A top-notch mobile experience is not only important for domestic customers, but for international ones as well. Making sure your website is optimized for mobile across all your markets will be even more critical for growing sales and expanding business.
Mobile has been a tremendous driver for ecommerce sales because it enables social media interaction and brand discovery through search engines. Consumers are increasingly more comfortable with shopping through social media channels, which are largely visited through mobile devices. Because of this, many brands heavily invest in social media advertising to capture eyeballs on those platforms. Make sure that your brand is mobile optimized and localization-ready so that when a customer visits your website they can seamlessly purchase the product.
Cross-Border Will Launch In-Tandem with Domestic
Gone are the days when an international ecommerce strategy will follow a domestic strategy. Many young digital native brands, in particular, are launching globally at the outset because they recognize their advantage is to expand quickly into markets where competitors might not yet have a stronghold. This will lead to more brands adopting strategies where they launch their domestic and cross-border businesses simultaneously.
With the help of cross-border ecommerce solutions, doing so will not be the huge undertaking it would have been in the past. Next-generation solutions built on strong tech can launch brands into 200+ countries so that their digital doors are open to shoppers anywhere. One factor that will remain true aside from these trends will be the focus on building customer relationships and making memorable experiences for online shoppers. No one can foresee how recent global events will continue to unfold, but online brands can take these steps to future-proof their businesses.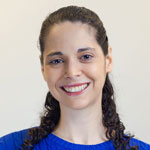 Juliana Pereira is VP Marketing at Flow Commerce, a next-generation cross-border e-commerce solution helping brands and retailers sell products to global customers.