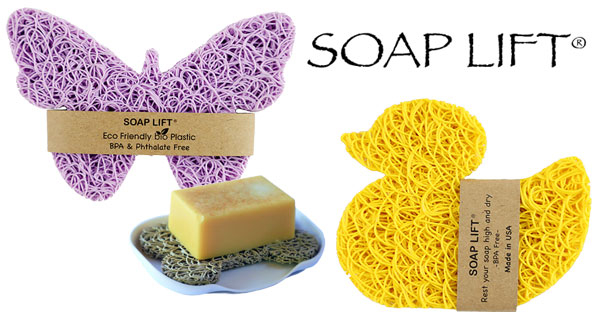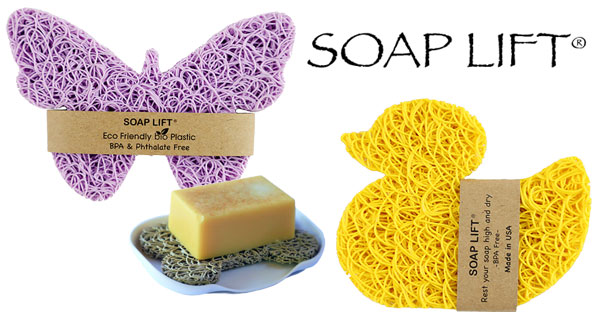 Long ago are the days of soggy soap that has melted all over the bathroom counter or shelf and just looks like a hot mess. Sea Lark Enterprises, LLC has designed and perfected an innovative way for bar soap lovers everywhere to keep their soaps dry and their counters clean, all the while extending the life of their soap.
Made of a multi-directional bioplastic (corn-based), Soap Lift® is a draining pad that allows water to drain and air to circulate around the soap. The first of its kind, the Soap Lift® keeps soap high and dry, lifting it out of standing water so it dries faster and lasts longer. The best part is, it's made in the USA and completely recyclable. It is even wrapped in a recycled craft paper!
Woman Owned, Family Run
Sea Lark Enterprises, LLC is a woman owned, family run company and the home of the original Soap Lift®. They are immensely proud that all of the material in and on every single one of their products is 100 percent made in the U.S.A. and sourced from small companies just like them. They are committed to providing the highest quality products and make every effort to be as environmentally conscious as possible.
The Soap Lift® is made from a corn based bioplastic, is REACH compliant and wrapped in a recycled craft paper. Not only will the Soap Lift® help soaps last longer, but consumers can feel good that it is upcycled too. The company's soaps and creams are made from natural ingredients carefully formulated to address a variety of skin needs. Their cold pressed soap is made with a blend of organic food grade oils and infused with silk fibers for a luxurious silky feel. They offer a variety of scents ranging from essential oils to natural fragrances. Their high quality ingredients are sustainably sourced and responsibly harvested.
The company's Manuka Honey line includes both soaps and creams and is a top pick for customers with everything from poison ivy to psoriasis. Manuka Honey is sourced from the Manuka Flower which is only found in New Zealand and has 26 probiotics used for its wonderful medicinal properties. Their proprietary formula includes silk proteins to ensure maximum absorption without leaving skin feeling greasy.
The Story of Soap Lift
If you ask the owners where this idea came from, they will laugh. Frustrated with his wife's complaining about his bar soap leaving soap scum all over the shower, Bill cobbled together a self draining pad to stick underneath it and voila the Soap Lift was born. The one and only Soap Lift sat in their shower for a year until a family member asked for one, then friends started asking and they realized they had something worth sharing. Many prototypes later and countless trials of different materials, they finally found the perfect combination. Cutting them by hand out of their garage and working farmers markets slowly evolved to what Sea Lark Enterprises is today, a small business dedicated to giving back to the community that supported them from the very beginning.
Community Outreach
Sea Lark Enterprises is big on community outreach. They have a work program for students with special needs at their local high school. The company also donates regularly to fundraisers like the local library's annual mini-golf tournament and local school events. As part of a local community, it is important for them to give back.
More Eco-Friendly Products
By popular demand, Soap Lift® comes in many versatile shapes such as the regular oval shape, dog bones, bears, whales, butterflies, ducks, fish, hearts, snowflakes, and turtles. They are great to not only rest soap on, but users can also keep razors, toothbrushes, and jewelry dry without leaving residue behind. All Soap Lift® clean remarkably well by simply rinsing under running water and giving it a few squeezes.
To see all of Sea Lark Enterprises, LLC's products and get information on becoming a vendor, visit their website at www.soaplift.com.
Soap Lift
Tel.: 203-823-9264