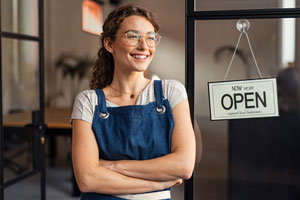 by Christel Grizaut
The COVID-19 pandemic forced retailers to improvise and rapidly implement sweeping changes as they struggled to survive. Now, the chaos is gradually giving way to a new order, and as they look to 2022, many businesses are finally hoping for a more orderly and "normal" year.
However, there is a catch: many of the rapid-fire changes that retailers rushed through in response to the pandemic have proved surprisingly popular with consumers. In fact, many pandemic-related accommodations are likely to become permanent fixtures because shoppers have decided they like them.
That means brands cannot simply wind back the clock. As they prepare for the coming year, indie retailers need to ensure they understand exactly how consumer expectations have evolved and find ways to address them from a position of strength and sophistication. Brands that can stay ahead of the curve and operate strategically and deliberately rather than from a place of panic or desperation, will stand out from the pack as customers venture back into stores.
Here are the five key trends that businesses should take seriously as they plan for the coming year:
1. Customers Care About Return Policies
During the pandemic-driven surge in online shopping, product returns became a major pain point for consumers. In fact, according to Forrester, over a third of U.S. shoppers have been deterred from making an online purchase due to worries over the return process, while online merchants have responded by trying to offer clearer and more generous return policies.
That means that as customers return to stores, retailers have a chance to differentiate themselves with low-cost, low-hassle return policies. Free shipping labels and lengthy return periods are an important option, and offering customer-friendly omnichannel policies that enable shoppers to buy online, then return products in-store, could be an especially powerful strategy in coming months.
2. Buy Now Pay Later is a Big Deal
Economic anxieties rose to the fore during the pandemic, and consumers have increasingly grown wise to the onerous fees and steep interest associated with credit cards. This has left many shoppers gravitating toward businesses that offer BNPL (buy now pay later) installment plans, which have been widely promoted online as a way of taking the sting out of making a major purchase.
As customers return to stores, they will be looking for similar offerings from both real-world and omnichannel sellers. According to IDC, about 80 percent of top retailers will offer BNPL by 2023 — and IDC's research shows that brands that offer these features typically ring up significantly bigger sales and reap increased loyalty from consumers — a two-for-one benefit that retailers cannot afford to pass up.
3. Consumers are Looking for Happiness
Maybe money cannot buy love, but it can buy temporary comfort and relief, which are things consumers have urgently needed during these tough times. Customers will increasingly be looking to retail to provide them with an escape valve from the stress of their daily lives, and brands that offer immediate relief will be well-placed to thrive.
That means luxury items and treats such as alcohol, candy, and clothing will all do well in the coming year, but it also means that brands have an opportunity to succeed by putting experiences front and center. Shoppers are hungry for positive, meaningful, and emotional touchpoints, so businesses should aim to go beyond mere transactions and offer comfort and care as part of their customer experiences.
4. Sustainability Shapes Buying Decisions
Sustainability is no longer a niche interest — it is a mainstream driver of purchasing decisions for shoppers of all ages. In fact, according to IDC, almost seven out of 10 shoppers now say a brand's sustainability practices shape their decisions to buy that brand's products — and the numbers soar even higher when you look at younger shoppers.
Crucially, consumers are now much more savvy about brands' sustainability messaging. You will not be able to project planet-friendliness unless you can bring receipts and prove that your business is actually making a difference. Successful brands will use hard data to document and validate their sustainability gains, and find compelling, credible ways to communicate their achievements to customers.
5. AI is Making Brands Smarter
In these fast-changing times, it is critical for retailers to understand which of their omnichannel strategies are succeeding and which still need work. Increasingly, brands will use AI tools to draw together and make sense of performance metrics and to ensure their strategies are aligning with customer expectations to produce real business value.
New AI and machine learning tech will help brands to spot underperforming SKUs at specific locations, based on data pouring in from across the retail organization, and help managers and frontline teams to quickly identify unshelved products, missing price-tags, or other problems. The result is a better experience for customers and no missed revenue opportunities.
Looking to the Future
The bottom line is that as we emerge from the chaos of 2020 and 2021, both retailers and consumers are eager to get back to normal. Crucially, though, shoppers now expect that in the "new normal," retail experiences will be better than they used to be. After months of clicking-to-buy, shoppers are primed to expect effortless convenience — but they are also craving compelling real-world retail experiences that cannot be provided online. Delivering that combination will not be easy, and it will take careful planning, talented retail teams, and a tech-forward approach to keep brands on track.
Christel Grizaut is the SVP of Marketing at YOOBIC, the industry-leading digital workplace platform that empowers frontline teams wherever they are, to perform their best everyday by redefining the way they work, learn and communicate.