February 2015 Sees Largest Show Floor and 5.5% Increase in Retailers.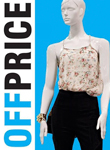 Brookfield, Wis. (Feb. 27, 2015) – The largest show floor in the 20-year history of the OFFPRICE Show catered 8,460 retailers looking for trendy and fashionable items for their stores. A 132,000 net-square-feet show floor provided countless items for retailers in the fashion and apparel industry with products often priced at 70% below wholesale costs. As evidenced by a 5.5% increase in retailer attendance from the February 2014 show, plenty of buyers took notice and prioritized attending OFFPRICE. It was the largest percentage gain in retailer attendance in more than seven years, resulting in the highest attendance the show has ever had. The show took place at the Sands Expo (Feb. 15-18, 2015) in Las Vegas during Fashion Week.
"More retailers than ever before have figured out how instrumental a visit to the OFFPRICE Show can be for their stores," said Stephen Krogulski, CEO of the OFFPRICE Show. "The show has gotten a little bigger and better each year. It's an influential marketplace for both buyers and wholesalers. The companies that exhibit here all source deals for a living. Retailers are guaranteed to find an incredible deal on some type of apparel."
Products that exhibitors at OFFPRICE make available are routinely marked under wholesale costs. Retailers found everything from brand name jeans, to cashmere scarves to quality private label garments. The show also features a dedicated footwear section. The popular Cash & Carry section was its largest on record: 69 booths.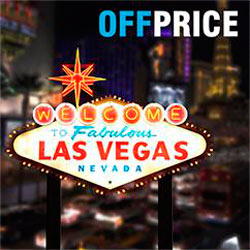 "Las Vegas is a hub for beauty; beautiful faces, landscapes, buildings, and moments flash by at every point. However there is no greater concentration of it than within the 2015 OFFPRICE Show," said Brandi Beckwith, buyer, Groovy Goods (Arlington, Texas). "Endless aisle after aisle of diverse clothes with no shortage of vibrant colors and textures you simply must reach out to experience."
OFFPRICE enjoys a very strong retention rate of its exhibitors each year, but the beauty of the show is all exhibitors have something different every time. By nature of the industry, booths have new and exciting apparel each time the show opens every six months. The inventory of the exhibiting companies often changes every month. Multiple exhibitors and retailers pointed to jogger pants as the hot selling item that was found on the show floor in February.
"We were able to exceed our expectations, and at the same time, met great new accounts that will hopefully be long lasting," said Brandon Cooperman of D&L Apparel, Ltd (Chicago, Ill.).
The OFFPRICE Shows and Publications are produced by Tarsus Group plc (TRS.L on the London Stock Exchange), an international media group with interests in exhibitions, conferences, publishing and the Internet. Headquartered in Dublin, with offices in London, Paris, Shanghai and Milwaukee (home of OFFPRICE), Tarsus serves niche markets with trade events and online media. For further information on Tarsus and OFFPRICE, go to Tarsus.com or OffPriceShow.com.