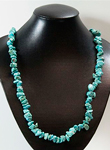 What began as inspiration from an object in a gift shop has spawned into a successful gem and rock wholesale company in the form of Village Originals. The company was created in 1973 after its owners Jay and Marge Gehring were influenced while traveling. From Brazilian agate pen sets to clock faces and bookends, Village Originals started importing merchandise by the fifty-five gallon drum from Brazil.
"Eventually after a few years it started with a quartz point and my dad had the idea to turn it into a pendant and that is when the jewelry started," said Jennifer Badik, Manager at Village Originals. "We started doing gem stone pendants, then moved on to a whole line of gem stone jewelry and then — probably the biggest part of the company is the rocks — agate from Brazil, amethyst from Uruguay and Brazil and minerals from all different countries."
Village Originals has two locations, one in Charleston, South Carolina which is where their rock warehouse is located and one in Orlando, Florida where they have not only a warehouse but a retail store as well.
"The rock warehouse is where we have everything imported and then we have a walk in business so customers can walk in there and purchase right from the warehouse," said Badik. "We have a very unique product. These rocks and minerals are very popular."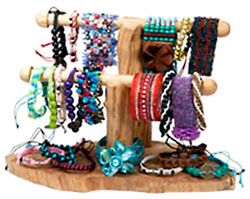 Village Original products are sold in zoos, aquariums, mom-and-pop shops and museums, as well as in large jewelry stores that use their pendants as focal pieces for new jewelry items. In addition to having a wide span of customers, Village Original rocks and minerals also are used as a symbol of good health. "We have a lot of metaphysical customers that believe that rocks and minerals do something for your health, that is a big customer base," said Badik.
Village Originals is currently taking part in the biggest gem trade show in Tucson, Arizona and has big plans for the upcoming ASD show. "We are hoping to get new customers so we are selling everything," said Badik. "What we do a lot of times when we go to these shows is people will see our booth and they will want our exact booth in their store so we will build out the interior of their store for them. That is what we are hoping to do, get more stores and more customers."
Depending on the size of the trade show, Village Originals occupies anywhere from two to ten booths. It is a family affair at the company where the Gehring's three children all work. "There is my older brother, younger sister, and then myself all working for the company," said Badik. It is truly a family operation at Village Originals.
For more information visit www.villageoriginals.com, call the store at (407) 855-4004 or the rock warehouse at (843) 760-3050.