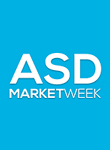 As the largest general merchandise wholesale trade show in the United States, ASD MarketWeek has a bit of an advantage over other shows. Now in their 56th year, the Emerald Expositions show kicks off March 19 at Las Vegas Convention Center in Las Vegas, just in time for buyers from all over the globe to make their Fall and Winter merchandise purchases. Running from March 19-22, 2017, and spanning the entire convention center site, this merchandise buying juggernaut will once again offer nine main product categories, each of them a show in their own right.
The show categories range from Fashion & Accessories, Convenience Store, Souvenir & Novelties, Beauty & Fragrance, General Store, Culture — including Smoke and Vape, Gift & Home Accents, to Cash & Carry and SourceDirect. Buyers in the know shop the SourceDirect floor to find new overseas suppliers of favorite items, while those browsing the Cash & Carry selections have the added bonus of taking their purchases home with them on the spot. Launched in 2016, this year sees the return of the popular Electronics Pavilion in the South Hall lower section of the show, so buyers should be sure to check out the deals to be found there.
From licensed products to artisan collective items, ASD MarketWeek offers a host of new to market on on-trend merchandise, underscoring the old adage that there is always something new at every show. "That's why our attendees keep coming back," explains Karla Villalobos, Senior Marketing Manager for ASD MarketWeek . "They know they'll be able to see new trends and products every time."
ASD MarketWeek will once again offer buyers a free educational seminar experience including the Independent Retailer's Conference and SourceDirect networking sessions to connect busy buyers with new wholesale suppliers. Also co-located at the convention center during the March 2017 show will be the online-sellers conference known as the Prosper Show. Presented by Prosper Show president James Thomson, the two-day conference will bring in top name speakers and experts on ecommerce for an intensive schedule of meetings and educational sessions. Registration for the Prosper Show must be made in advance via the show's web site, at www.ProsperShow.com.
For those buyers looking for closeout lots and other bulk load merchandise, ASD MarketWeek has many exhibitors who offer aggressively discounted pricing and a wide selection of reverse logistics product offerings. With an enormous list of exhibitors — all searchable online at the show's web site — buyers are encouraged to register early and take advantage of the show's state-of-the-art matchmaking service and show planner. To get the most from your show experience, register online and visit the Plan Your trip link to book your hotel, get directions, and download a host of other easy-to-use buyer FAQs about the show.
Online registration is now open at www.asdonline.com. Additional show details including hotel deals and discounts are also available on the site.