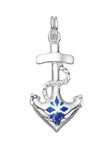 Since 1992, Sterling Forest has been a leading seller of sterling silver and costume jewelry, right from the heart of New York City. Located on Broadway in midtown Manhattan, a hotbed of silver and costume jewelry, the company prides itself on an imported product line that appeals to men and women of all different ages.
Importing silver jewelry from countries such as Italy, Mexico, China and India, Sterling Forest caters to those in search of trendy product, and one of their specialties is the teenager market. The company also recently got into stainless steel jewelry, and introduced a men's line of products, which have been doing very well.
"[Because] we're located in the city, where the wholesale jewelry area is, customers can come in and buy the merchandise they wish to in wholesale," says Sterling Forest owner Dinesh Kumar. "This area is a small block where there are all wholesale sellers of jewelry together in one place, so whoever needs to buy silver jewelry or costume jewelry will come down to this block. We cater only to wholesalers, and because we've been in business for years, we have a very good clientele of customers."
Recognizing the importance of marketing, Dinesh represents Sterling Forest at many of the most important trade shows across the country, including the ASD, JCK and JIS shows. Sterling Forest is also well-represented by its website, www.sf925.com, which reportedly draws nearly 1,500 hits per day. The site is updated very often, and features the lion's share of the company's product line, including earrings, necklaces, bracelets, anklets, toerings and more.
Another important selling point of Sterling Forest's jewelry is that much of it consists of items inspired by those of the major brands, making them easily recognizable and easily marketable.
Contact:
Sterling Forest
1204 Broadway
Suite 201-203
New York, NY 10001
Ph: 212-594-8199
Website: www.sf925.com