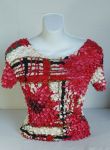 The allure of the East can have a strong attraction for customers, especially when it comes to fashion. Offering unique clothing and accessories imported from China, Oriental Apparel stocks items that can definitely add an exotic touch to a ho-hum product line.
Based in Florida, the company sells a wide range of products, including cardigans, vests, skirts, handbags and tank tops. Of particular interest is the "popcorn" clothing Oriental Apparel specializes in—tops and skirts featuring an unusual texture, and coming in a variety of different prints. Items of the same color or style can be ordered in bulk.
Oriental Apparel sells these many items via its webpage, which is hosted by WholesaleCentral.com. The many categories of products can be found on a simple left-hand sidebar, which also allows easy customer access to check out and shopping cart functions. Many articles of clothing sell for as low as $5 per unit, and there is a minimum order of $200.
Merchants like Oriental Apparel allow retailers to offer a taste of the East to consumers on the lookout for something a little bit different.
Contact:
Oriental Apparel, Inc.
171 Ranger Ave., Unit D
Deland, Florida 32724
Ph: 386-383-2618
Website: www.wholesalecentral.com/orientalapparel