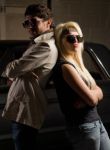 Hard to imagine at the moment for many, but spring is on the way, and before you know it, warm, sunny weather will be upon us. The key word there is "sunny"—and if sunglasses are what you're looking for, there is certainly no shortage of wholesalers out there in the business of providing them for your product line.
Great L&H Trading is one of these companies, offering a high-quality selection of fashionable shades. Most notable among the offerings is the Christelle collection of designer sunglasses. The website, glhsunglasses.com, is very easy to navigate, with high-res images of their products.
PR Sunglasses boasts "over 1,000 styles to choose from," and many of these are available for your perusal at prsunglasses.com, with new arrivals featured prominently on the front page of the site. Full access to all product information on the site is available to those who create a buyer account and log in.
Fashion USA offers an especially wide assortment of sunglasses. A visit to the company's website, fashionusasunglasses.com, reveals a simple-to-use menu of shades divided by category: driving sunglasses, sports sunglasses, goggle sunglasses, kids' sunglasses, etc. They even offer those '80s retro shutter sunglasses that are all the rage.
American Sunshine Eyewear (ASE) is "an importer, exporter and wholesaler of quality sunglasses and eyewear accessories". Based in Miami, ASE offers products featuring a range of frame materials, including nickel silver, stainless steel, nylon and acetate. Lenses come in acrylic, polycarbonate, polarized and other forms. ASE will also be present at the upcoming ASD show in Las Vegas.
Looking for a great bargain? Then proceed to CTSwholesalesunglasses.com, where CTS Wholesale is offering sunglasses priced at $10 and up per dozen. CTS also offers discounts such as 10% off orders totaling $500-$999, and as much as 20% off orders over $2,000.
Contact:
Great L&H Trading
29 W.30 Street Suite 601
New York, NY 10001
Phone: 212-868-5656
Website: www.glhsunglasses.com
PR Sunglasses
7596 Harwin Drive
Houston, TX 77036
Phone: 713-975-8252
Website: www.prsunglasses.com
Fashion USA
41-43 37 Street, 2nd Floor
Long Island City, NY 11101
Phone: 877-534-8889
Website: www.fashionusasunglasses.com
American Sunshine Eyewear, Inc.
1509 NW 82 Avenue
Doral, FL 33126
Phone: 305-392-5358
Website: www.aseyewear.com
CTS Wholesale LLC
3525 Brady Court NE
Salem, OR 97301
Phone: 503-364-3486
Website: www.ctswholesalesunglasses.com