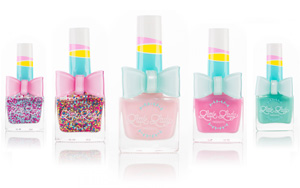 It's not only consumers who are interested in clean ingredients in their health and beauty commodities, but even business owners are too. We all want a product that is good for us, hence the popularity for cleaner merchandise in recent years. This is exactly what led one brand to create clean beauty products for little kids.
"It all started when my daughter was three years old and I would come home after getting my nails done, and she would just be so obsessed with them and wanted me to paint her nails," Arda Tashdjian, Founder of Little Lady Products, said. "I have over 15 years of experience in the cosmetics industry and I knew a lot of nail polishes had harmful chemicals and didn't feel comfortable putting them on a little girl."
Safe Enough for Little Ones
Tashdjian then developed her own nail polishes to be safe enough for little girls and founded Little Lady Products. Beginning in May of 2018, the brand offers safer mani-pedi's in a spectrum of long-lasting, quick-dry colors and "matching" scents made to spark creativity and play.
Each polish is formulated without the seven major toxins – ingredients that are found in traditional polishes — Formaldehyde, formaldehyde resins, Toluene, Camphor, Dibutyl Phthalate (DBP), Triphenyl Phosphate (TPHP), and Xylene — and topped with a wearable pink or blue bow ring to complete the "minicure."
A Four-Person Job
"My kids love being part of the process, from choosing color names and scents to helping me pack orders," Tashdjian said. Her whole family is involved in the brand, and all of the names for the polishes are named after different things her daughter loves, including princesses and fairies. Tashdjian's son also helps choose new colors and her husband helps to come up with new ideas for the brand.
One of Little Lady's Product's newest releases includes a "Minicure Remover," which is a soy-based nail polish remover. It's just as clean as the nail polishes, with no acetone, no harmful chemicals, it's infused with Vitamin E and jojoba oil to moisturize the cuticles and the nails, and it smells amazing! The best part is, the nail polish remover comes in a spray bottle, so it's spill-free and mess-free. Kids can simply spray the remover onto a cotton ball and wipe it on their nails.
Passing the Time While in Quarantine
With so many families stuck at home during the COVID-19 pandemic, Little Lady Products has actually been doing very well in terms of sales. "A lot of people have been home and passing the time with their kids, and we recently introduced our Little Lady Duos collection during COVID-19, and it's been really popular on our site."
Today, Tashdjian has her brand carried in 275 stores and in four product showrooms: Los Angeles, New York, Dallas, and Atlanta. Little Lady Products are becoming so popular, The Rock even shared the line with his daughter. To view their full line of nail polishes, visit www.littleladyproducts.com.