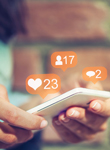 By Katy Albrecht
Instagram has become a game-changer for many retail businesses. It provides a wealth of opportunities to creatively personalize shopping experiences for customers. According to Omnicore, Instagram has more than 700 million monthly active users with a daily reach of 59 percent of users between the ages of 18-29 and 33 percent of users between the ages of 30-49. What's more, brands can reach 100 percent of their followers on Instagram, whereas Facebook reaches just six percent. Here are a few tips to help strengthen your insta-worthy posts:
Be a Resource to Your Customers
Shoppers, for the most part, turn to retailers' social media accounts for inspiration and to browse merchandise. If you own a clothing store, a great way to reach your prospective audience is to post "outfits of the day" (#OOTD) or videos with styling tips featuring your products. According to Khalid Saleh, CEO of Invesp, 45 percent of online shoppers are more likely to shop on a site that offers personalized recommendations. Your customers will appreciate the styling tips and you will appreciate the sale.
Don't be a Robot
Social media is meant to be just that—social. Your followers are more receptive when you engage in conversations and personalize your messages. A study by Bain & Company says that companies engaging with consumers and responding to customer requests on social media could gain 20 to 40 percent more sales. Remember, word-of-mouth is one of the most valuable forms of marketing. Your customers don't want you to sell to them, so be mindful of the salesman approach.
Share Behind-the-Scenes Footage
Sharing behind-the-scenes footage with your customers is a great relationship builder. It makes them feel like they are a part of the process and humanizes your company. This is important because people are looking to connect with people, not just the brand.
Are you having a hard time deciding which winter coat your customers will like? Utilize Instagram Story, a feature that allows you to share photos and videos with your followers that disappear after 24 hours, and ask your customers to help you make purchasing decisions. Use the new interactive poll sticker on your Instagram Story and have your followers cast their votes for real-time results. Not only did you include your customers in on the fun, but you confidently purchased an item that you know will sell. Don't forget to use hashtag #BeTheBuyer.
Shoppable Posts
Platforms like Shopify, Like2HaveIt and Like2Buy allow customers to buy from retailers' Instagram pages without ever having to leave the app. Because clickable links aren't allowed on Instagram captions, retailers take to shoppable photo tags to drive their online sales. However, there are some kinks that need some TLC. According to Influencer Marketing Hub, Instagram's shoppable posts are only available within the United States on iOS.