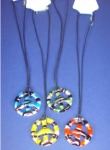 You can learn a lot by being in the wholesale business for 20 years. Just ask Craig Weil, president of Accessories Palace in Royal Palm Beach, FL. "We started out in 1989 at our kitchen table with a few boxes of merchandise from Taiwan," Weil says. "Now we've expanded three times in those 20 years to where we are now, with a 20,000-square-foot warehouse and a greatly expanded product line."
Indeed, Accessories Palace has just about anything a retailer could want. "We currently have between 4,000 and 5,000 items," Weil says. "Our biggest categories are women's and teen products, but we also sell high-impulse novelties as well." For example, Accessories Palace got in early on the Silly Bandz craze last year, and it turned out to be one of their biggest sellers for the year. Still, the company isn't sitting on its laurels. "Our steadiest items are fashion jewelry pieces. We recently rebranded our line, and are now calling it 'Premium Quality Fashion Jewelry'," Weil says. "The items wholesale for 50 to 60 cents each, and retail for $1 to $2 per item. The minimum order is only $75, and you can mix and match what you need," he adds.
Judging by the size of its customer base, Accessories Palace must be doing something right. "We have thousands of satisfied customers," Weil says. "We're just closing out a banner year, and we had our best year ever in 20 years." One way AP keeps customers coming back is via its personalized email it calls its 'E-Updates.' "We offer different specials all the time, including so much off an order, or discounted shipping, or other specials," Weil says. The company has also coined a new tagline that it's been adding to its ads and mailers, which seems to sum up the company best: "81 million teen shoppers want our merchandise.
For More Information:
Accessories Palace, Inc.
Palms West Industrial Park 585
105th Avenue N., Unit 11
Royal Palm Beach, FL 33411
Tel.: 561-793-5565
Toll Free: 866-725-2234
Website: www.accessoriespalace.com