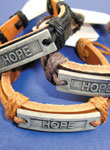 "Time really does fly when you're having fun," says Accessories Palace president Craig Weil. Now in its 23rd year of wholesale business with a website in service for 12 years, the firm recently experienced some major transformations, including a website makeover. "The site is much easier to navigate now," says Weil. "It's more colorful and more up to date, and it's now a full ecommerce site, which is making our entire operation more efficient." Because of its streamlined online ordering process, the Internet is the company's primary mode of order processing. It provides the fastest possible turnaround, and orders placed by 3 pm are often shipped the same day.
With transactions mainly occurring online, Accessories Palace strives to maintain lines of communication with its customers with weekly email campaigns that offer a promotion or discount. "We can offer discounts to ease the cost of freight, for example," Weil reveals. "In order to get these discounts, customers have to subscribe to our website updates." This tactic helps drive traffic to the site, Weil adds, keeping its weekly number of visitors around the 5,000 mark.
Accessories Palace also focuses on delivering the best selection and quality to customers. "What makes our products stand out is the perceived value for the money," Weil explains. Best sellers this year have been pink ribbon themed merchandise such as breast cancer awareness bracelets, and spiritual items with inspirational messages. While Accessories Palace's staple items, jewelry and novelties, are true to its name, the firm grows its inventory by 150 to 200 new items every week. "There are always plenty of choices for customers, and we update the site daily as new items come in," Weil points out. The average wholesale price is between $.50 and $.60, with retail between $1 and $2. The minimum order is $75.
For more information:
Accessories Palace, Inc.
585 105th Avenue N, Unit 11
Royal Palm Beach, FL 33411
Toll Free: 866-725-2234
Tel.: 561-793-5565
Website: www.accessoriespalace.com