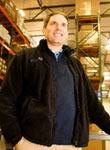 eCommerce retailers won't have much time to catch their breath after what's shaping up to be a robust holiday season. With 2012 online sales reaching new heights, many retailers are confident that revenue will continue to increase in 2013. To capitalize on the growing population of online shoppers, businesses must adjust their marketing to appeal to more sophisticated consumers. Experts say Internet merchants should be thinking about two things as they contemplate their New Year's resolutions: mobile and global.
"The age group that represents the biggest portion of online customers continues to be adults in the 20 to 39 age range," says Joseph DiSorbo, CEO of Rakuten Super Logistics (www.RakutenSL.com), an eCommerce fulfillment company. "We're finding that many of the eCommerce retailers we serve are investing more on email and SMS marketing. They are also redesigning their websites to make the shopping experience more mobile friendly for the millions of consumers in this age range who have embraced shopping on smartphones and tablets."
In addition to the growth of the mobile channel, another macro trend in eCommerce is internationalization. By the end of 2013, 34 percent of all eCommerce sales will come from the Asia-Pacific region, surpassing North America, according to eMarketer, a firm that analyzes digital marketing and worldwide eCommerce trends. More specifically, China will be the largest source of online buying, exceeding Japan's online spending for the first time. To accommodate the influx of online consumers, some businesses have begun expanding the range of inventory they maintain, DiSorbo says. "Many online retailers with whom I work are already broadening their product offerings so they can appeal to an increasingly diverse and global customer base."
Still, the two most important factors in driving eCommerce sales continue to be price and convenience, according to research by the National Retail Federation (NRF). Delivery time can also make or break a sale, DiSorbo adds. "Customers want their products shipped to them quickly. If a website can't guarantee speedy service, shoppers know there are plenty of other sites that can." In fact, many eCommerce retailers see an oversaturated market and increased competition as two of their biggest challenges in 2013, something consumers welcome. Higher transportation costs, driven in large part by rising fuel prices, also remain a concern for businesses.
"Retailers can't control higher freight costs and the price of fuel," DiSorbo admits, "but they can control the customer experience. They can make sure their sites offer a convenient and pleasant shopping experience that will turn first-time visitors into repeat buyers. I suspect more retailers will make this a priority in 2013 as they try to stand out in a crowded marketplace."